May 7, 2002

Contact: Adam Levin
Phone: (207) 786-6411
FOR IMMEDIATE RELEASE
SANDLER, GAUGHAN NAMED TO ALL-NESCAC
MEN'S LACROSSE FIRST TEAM
LEWISTON, Maine —Bates College men's lacrosse players Patrick Gaughan of Duxbury, Mass., and Jack Sandler of Hicksville, N.Y., have been named to the All-New England Small College Athletic Conference (NESCAC) first team.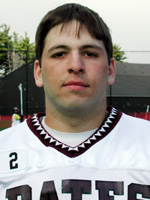 Sandler, a senior attack, was the Bobcats' leading scorer in 2002 with 32 goals and 18 assists for 50 points, fourth-best in the NESCAC this season. He was either the high scorer or tied for team-high honors in eight of Bates' 15 contests this season. Sandler scored six points in a game three times this season, including three goals and three assists in the Bobcats' 10-7 upset of nationally-ranked Bowdoin April 16. He scored a game-winning goal in a 12-11 overtime contest march 24 against the U.S. Merchant Marine Academy. He also forced overtime with two late goals in a 14-13 loss at Williams March 30.
Sandler has led the team in scoring in each of his four seasons at Bates, finishing his career with 150 goals, third-best in Bates history, and 49 assists for 199 points, second on the career list. Sandler has also been selected to represent Bates at the New England Intercollegiate Lacrosse Association East-West All-Star Game, played May 12 at Tufts University.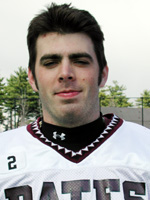 Gaughan, also a senior, was selected to the All-NESCAC team as a midfielder. He scored 24 goals this season, second on the team, while his 14 assists and 38 points were both third on the squad. He led or tied for the team lead in scoring four times this season. Gaughan registered hat tricks against Gordon College March 19 and against Plymouth State in a March 28 home night game at Campus Avenue Field. He was also involved in two of Bates' three overtime wins this season, scoring the equalizer with three seconds in regulation April 20 against Tufts and tallying the game-winner April 24 against Trinity College as the Bobcats won both contests, 12-11.
Gaughan started all 15 games this season, his first as a full-time starter. For his career, he tallied 48 goals and 22 assists.
Under second-year head coach Peter Lasagna, the Bates College men's lacrosse team finished the 2002 season with an 8-7 record (4-5 NESCAC). The Bobcats' four NESCAC wins were the most since 1985. The team won five straight games after losing their season opener, the longest winning streak since 1987. They also defeated Bowdoin, ranked No. 10 in the nation at the time, for just the second time in school history.
"I am extremely proud of the job the team has done this season," Lasagna said. "We overcame adversity to have a tremendous year. This is a fine reward for these seniors."
For more information on men's lacrosse at Bates, please visit our Web page at http://abacus.bates.edu/sports/mlax.html.
# # #
---