June 13, 2002

Contact: Adam Levin
Phone: (207) 786-6411
FOR IMMEDIATE RELEASE
GASTONGUAY NAMED ITA NORTHEAST
REGION COACH OF THE YEAR
LEWISTON, Maine — Bates College men's tennis coach Paul Gastonguay '89, has been selected as the Intercollegiate Tennis Association's (ITA) 2002 Division III Northeast Region Coach of the Year.
Gastonguay, in his sixth year as head coach of Bates men's tennis, has compiled a 37-32 record in that span.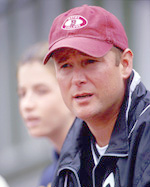 He has led the team to three consecutive NCAA tournament berths, the longest streak in team history. The Bobcats have posted a 25-12 record in that stretch. He has led his alma mater to three top-four finishes in the NESCAC, finishing second in 2000, third in 2001 and fourth this year. Gastonguay was selected as NESCAC coach of the year in 2001 for leading a team that had lost three players from the previous season back to the top three in the league. At the 2002 NESCAC tournament, the Bobcats had the lowest seed to reach the semifinals of a flight (#4) and the only #8 seed to top a #1 (#3 doubles). Bates senior Ben Lamanna won the 2002 Clarence Chaffee Award for sportsmanship, while junior Alex MacDonald was selected to the 2001 NCAA Individual championship, the first Bobcat chosen since 1995.
Gastonguay is the winningest tennis player in Bates College history, amassing a combined record of 149-41 in his four-year playing career. He set three of the top four single-season marks in school history and became the Bobcats' second-ever All-American in tennis in his senior season, during which he was a finalist for the NCAA Arthur Ashe Award. Gastonguay competed professionally in International Tennis Federation Satellite, Challenger and ATP Tour events, where he achieved world rankings in singles and doubles. He served as a practice partner for former ATP Tour top ranked player, Ivan Lendl, during the last four years of his career.
For more information on men's tennis at Bates, please visit our Web page at http://abacus.bates.edu/sports/mtennis.html.
# # #
---