October 8, 2001

Contact: Adam Levin
Phone: (207) 786-6411
FOR IMMEDIATE RELEASE
RANKS NAMED NESCAC FOOTBALL ROOKIE OF THE WEEK
LEWISTON, Maine — Bates College first-year tight end Adam Ranks of Stratham, N.H., has been selected as the New England Small College Athletic Conference (NESCAC) football Rookie of the Week for Oct. 7.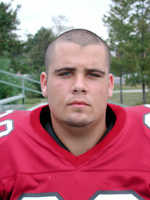 Ranks, playing at Williams and making his first career start for an injured Mike Moynahan of Gloucester, Mass., had the Bobcats' top receiving day of the season so far. Ranks pulled in six catches for 83 yards. Four of his six receptions gained a Bates first down, while his other two catches were for nine yards. Three catches came on Bates' two scoring drives, including his career-long 31-yard reception early in the third quarter to set up the Bobcats' first score three plays later as Bates cut the Ephs' lead to 13-7.
With his six completions to Ranks, Bates quarterback Kane Jankoski of Spencer, Mass., had his best career performance as a starter. Jankoski completed 15 of 26 passes for 208 yards as the Bobcats (0-3) fell to undefeated Williams (3-0), 35-14.
Ranks is a 2001 graduate of Exeter High School. He is the son of Scott and Carla Ranks, Stratham, N.H.

For more information on Bates football, please visit our web site at http://www.bates.edu/sports/football.html.
# # #
---