November 14, 2001

Contact: Adam Levin
Phone: (207) 786-6411
FOR IMMEDIATE RELEASE
KEVIN MADDEN NAMED NESCAC ROOKIE OF THE WEEK
LEWISTON, Maine — Bates College linebacker Kevin Madden of Concord, N.H., has been named the New England Small College Athletic Conference (NESCAC) rookie of the week for Nov. 10.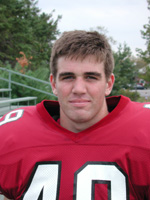 Madden turned in his top performance of the year against Hamilton College despite a 22-13 Bates loss on Nov. 9. He paced the Bobcat defense with 15 tackles (8 solo), and three tackles for a loss of five yards. His 15-tackle performance against the Continentals was the single best performance by a Bobcat this season, and came off the heels of an 11-tackle performance against Bowdoin College a week earlier.
In a 38-35-overtime victory, Madden led Bates with eight solo stops and two sacks. Madden saw sufficient time in Bates first six games, but stepped into a starting role for the last two following an injury to junior linebacker Ben Johnson (Lyndonville, Vt.). Madden finished the year with 41 tackles (25 solo), six tackles for a loss, and two sacks.
Under the direction of fourth-year coach Mark Harriman, the Bobcats finished 1-7, with their only win coming against in-state rival Bowdoin College on Nov. 3. Bates featured the third-best quarterback and running back in NESCAC competition. Junior QB Kane Jankoski (Spencer, Mass.) finished the year with a 106.5 efficiency rating, completing 104 of 201 passes for 1115 yards and eight touchdowns. Sean Atkins (New York, N.Y.) carried the ball 164 times for 753 yards, averaging 94.1 per game. The Bobcats will return 20 of 22 starters next season.
Madden is a 2001 graduate of Concord High School. He is the son of Jerry and Sue Madden of Concord, N.H.
For more information on Bates football, please visit our web site at http://www.bates.edu/sports/football.html.
# # #
---