November 5, 2001

Contact: Adam Levin
Phone: (207) 786-6411
FOR IMMEDIATE RELEASE
JANKOSKI NAMED NESCAC FOOTBALL PLAYER OF THE WEEK
LEWISTON, Maine — Bates College junior quarterback Kane Jankoski of Spencer, Mass., has been selected as the New England Small College Athletic Conference (NESCAC) football Offensive Player of the Week for Nov. 4.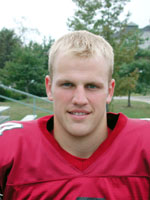 Jankoski had a career day in leading the Bobcats to their first win of the season, 38-35, against in-state rival Bowdoin College in overtime. Jankoski tied his career best with 19 completions and 31 attempts, while setting new personal highs with 250 yards passing and four touchdowns. He improved his quarterback rating by 15 points with his performance and now ranks fourth in the NESCAC with a 106.2 rating.
After Bowdoin took an early 7-0 lead, Jankoski helped the Bobcats to touchdowns on four consecutive drives late in the first quarter and into the second. In the second period, Jankoski completed seven of 12 passes for 114 yards and three touchdowns, including two to sophomore tight end Mike Moynahan of Gloucester, Mass. The 21 points scored in the second quarter were as many as the Bobcats had scored in any previous game this season.
Jankoski hit rookie tight end Adam Ranks of Stratham, N.H., on Bates' second drive of the third quarter to give the Bobcats a 35-14 lead. Bowdoin came back to tie the contest late in regulation. Jankoski moved the Bobcats within range of a game-winning field goal as the clock expired, but the Polar Bears blocked the kick, forcing overtime. Bates sophomore Nat Carr of Concord, Mass., booted a 32-yard field goal on the first possession of overtime and the Bates defense forced a Bowdoin loss on three of the Polar Bears' plays as the Bobcats won the first overtime game in the 104 meetings between the two teams.
Jankoski is a 1999 graduate of David Prouty Regional High School. He is the son of Philip and Kathleen Jankoski, Spencer, Mass.
For more information on Bates football, please visit our web site at http://www.bates.edu/sports/football.html.
# # #
---