November 1, 2001

Contact: Adam Levin
Phone: (207) 786-6411
FOR IMMEDIATE RELEASE
BATES NAMES ROGAN CONNELL HEAD ALPINE SKIING COACH
LEWISTON, Maine — Bates College has named St. Michael's College director of skiing Rogan Connell as its new head coach of alpine skiing, Director of Athletics Suzanne Coffey announced today.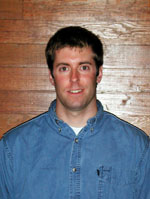 Connell has been director of skiing at St. Michael's since 1999. In that time, he led the Knights to a top 20 finish at the NCAA championships in 2000. From 1995 to 1999, he was the assistant head coach at Ford Sayre Academy in Hanover, N.H. Among the athletes Connell coached at Ford Sayre was Roger Brown, a 2001 All-American in the slalom for Dartmouth College.
Connell is a 1995 graduate of the University of New Hampshire, where he received a bachelor of arts degree in earth science. A two-time letter winner in alpine skiing for the Wildcats, Connell helped UNH to a pair of top 10 finishes at the NCAA championships in 1992 and 1993.

"Rogan Connell is a fine addition to the Bates College coaching staff," Coffey said. "The work he has done at St. Michael's and in the world of ski racing in New England will benefit both our team and the College as a whole." Connell takes over the head alpine skiing position from Ric Mackey, who resigned in September.
For more information on Bates alpine skiing, please visit our web site at http://www.bates.edu/sports/alpine.html.
# # #
---