October 15, 2001

Contact: Adam Levin
Phone: (207) 786-6411
FOR IMMEDIATE RELEASE
ATKINS NAMED NESCAC FOOTBALL PLAYER OF THE WEEK
LEWISTON, Maine — Bates College junior tailback Sean Atkins of New York, N.Y., has been selected as the New England Small College Athletic Conference (NESCAC) football Offensive Player of the Week for Oct. 14.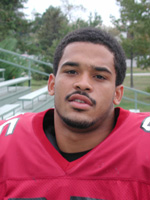 Atkins had a career rushing day for the Bobcats in their Oct. 13 contest at Wesleyan University in Middletown, Conn. He carried the ball 36 times for 270 yards, scoring two touchdowns of 65 and 34 yards. His 270 yards rushing marked second-highest total in Bates history, behind the 274-yard performance of Chris Hickey (class of 1988) on Oct. 24, 1987. It was also the second-highest rushing total in NCAA Division III play this season, behind the 315-yard day by Dave Burris of Massachusetts Maritime Academy on Sept. 15.
Atkins was especially impressive in the first half against Wesleyan, setting a school record with 222 yards on 23 carries. Both of his touchdown runs came on drives that followed Wesleyan scores to keep the Bobcats in the contest. Atkins also had one reception for three yards, giving him 273 yards from scrimmage. Wesleyan (3-1) pulled away in the second half to defeat Bates (0-4), 42-16.
Atkins is a 1999 graduate of Darlington School, Rome, Ga. He is the son of Keith Atkins, New York, N.Y.

For more information on Bates football, please visit our web site at http://www.bates.edu/sports/football.html.
# # #
---