November 6, 2001

Contact: Adam Levin
Phone: (207) 786-6411
FOR IMMEDIATE RELEASE
SPECTOR, CRITCHLOW NAMED TO ALL-NESCAC
MEN'S SOCCER TEAM
LEWISTON, Maine — Senior goalkeeper Dan Spector of Framingham, Mass., and junior back Jeff Critchlow of Carlisle, Mass., have been selected to the All-New England Small College Athletic Conference (NESCAC) men's soccer second team.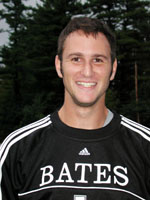 Spector, a tri-captain and 1999 All-New England selection, earns his first All-NESCAC honor. He stopped 64 of the 81 shots he faced this season, giving him a .790 save percentage and a 1.18 goals-against average, fifth-best in the NESCAC. Spector recorded 2.5 shutouts in 2001, giving him 17.5 for his career and making him Bates' all-time leader in that category. His two complete-game shutouts came against the University of Southern Maine Oct. 2 and against Colby-Bates-Bowdoin (CBB) rival Colby College Oct. 27. That game ended in a 0-0 tie, the second of Spector's career, and also clinched the Bobcats' spot in their first NESCAC tournament. Spector made a season-high 10 saves in another overtime contest, 1-1 against conference runners-up Middlebury on Oct. 14, a day after breaking his hand in another 1-1 conference tie at Wesleyan. Spector played every moment of Bates' final four games with a broken hand. In addition to his 17.5 shutouts, Spector posted a 1.12 career goals-against average and an .806 career save percentage.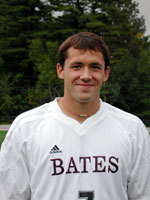 Critchlow was one of the Bobcats' top backs for a team that allowed just 17 goals in 15 games this season. He also scored his second career goal Oct. 20 against Connecticut College on a free kick which proved to be the game-winner. Critchlow enters his senior season with two goals and two assists for six points. He is also a member of the Bates men's lacrosse team.


In head coach George Purgavie's 19th season, the Bates College men's soccer team finished with a 6-6-3 record, 2-4-3 in the NESCAC. The Bobcats allowed either one or zero goals in 11 of their 15 contests this season, including a 2-1 win over conference rival Tufts University on Sept. 29, a team that went on to earn a Top 25 national ranking later in the season. Bates qualified for the NESCAC tournament for the first time in 2001, falling to first-round host Middlebury, 2-0, Oct. 28.
Spector is a 1998 graduate of Framingham High School. He is the son of Ken and Sallyanne Spector, Framingham, Mass.
Critchlow is a 1999 graduate of Concord-Carlisle Regional High School. He is the son of David and Mary Critchlow, Carlisle, Mass.
For more information on Bates men's soccer, please visit our web site at http://www.bates.edu/sports/msoccer.html.
# # #
---