November 15, 2001

Contact: Adam Levin
Phone: (207) 786-6411
FOR IMMEDIATE RELEASE
ATKINS, CHAPMAN NAMED TO ALL-NESCAC FOOTBALL TEAM
LEWISTON, Maine —Bates College junior running back Sean Atkins of New York, N.Y., and sophomore defensive lineman Kurt Chapman of Brunswick, Maine, have been named to the 2001 New England Small College Athletic Conference (NESCAC) All-Conference team.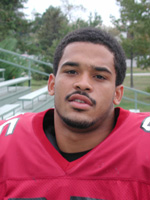 Atkins, a first team All-NESCAC selection, was a second-team All-Conference choice in 2000. Atkins finished third in the league in rushing in 2001 with 753 yards despite playing just one set of downs against CBB rival Colby and missing the entire second half of the Bobcats' 38-35 overtime win over CBB foe Bowdoin on Nov. 3. He led the team in scoring for the second consecutive season with six touchdowns, including four on the ground and two receiving. Atkins was third on the squad with 15 catches for 115 yards. He was named NESCAC Player of the Week for his Oct. 13 performance against Wesleyan, when he rushed for 270 yards, four yards shy of a school record and the fourth biggest day in NCAA Division III play this season. His 222 yards in the first half were a school record. Atkins also recorded 163 yards rushing in the first half against Bowdoin.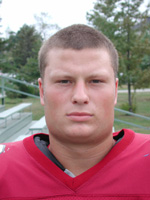 Chapman, a second-team All-NESCAC selection, started all eight games at defensive end for the Bobcats in 2001. He led the team with four sacks for 33 yards and seven tackles for a loss for 39 yards. Chapman's 36 total tackles were ninth best on the team, but 31 of those were solo stops, third on the team. He recorded sacks in each of the Bobcats final four games, including one on the final play of overtime against Bowdoin to secure the Bobcats' win over the Polar Bears. The sack was one of his career-high seven tackles.

Under the direction of fourth-year coach Mark Harriman, the Bobcats finished 1-7 in 2001, with their win coming against in-state rival Bowdoin College on Nov. 3. Among the 20 starters the Bobcats have returning in 2002 are Atkins, the third-leading rusher in the NESCAC, and junior Kane Jankoski of Spencer, Mass., the No. 3 quarterback in NESCAC competition with a 106.5 efficiency rating.
Atkins is a 1999 graduate of Darlington School, Rome, Ga. He is the son of Keith Atkins, New York, N.Y.
Chapman is a 2000 graduate of Brunswick High School. He is the son of Jeff and Michelle Chapman, Brunswick, Maine.
For more information on Bates football, please visit our web site at: http://www.bates.edu/sports/football.html.
# # #
---