Oct. 30, 2000

Contact: Adam Levin
Phone: (207) 786-6411
FOR IMMEDIATE RELEASE
WOMEN'S SOCCER TO HOST PLYMOUTH STATE
IN ECAC FIRST-ROUND
LEWISTON, Maine - The Bates College women's soccer team has earned its third straight berth in the Eastern College Athletic Conference (ECAC) Division III New England tournament, marking their fifth consecutive trip to the postseason and 10th in the past 11 years. The second-seed Bobcats (10-5) will play host to No. 7 Plymouth State College (10-7-2), Nov. 1 on Leahey Field at 1 p.m.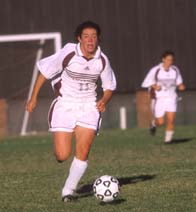 This will be the sixth all-time meeting between Plymouth State and Bates. The Panthers lead the all-time series, 4-1, but the teams have not met since 1987. This season, the teams are 1-1 against two common opponents with each defeating the University of Southern Maine and losing to Bowdoin. The Bobcats are making their 10th overall appearance in the ECAC tournament. They have won the championship three times, most recently in 1998.
Bates boasts one of the most balanced scoring attacks in the New England Small College Athletic Conference (NESCAC). The Bobcats do not have a player among the conference's top 11 scorers, but 13 different players have scored goals this season, with nine of those scoring two or more. Topping the list is sophomore midfielder Krissie Whiting of Contoocook, N.H., who has seven goals and an assist for 15 points. She is followed by junior Kate Dockery of New York, N.Y., with four goals and three assists for 11 points. Sophomore goalkeeper Kim Martell of Needham, Mass., was part of six shutouts, including three solo efforts. She posted a 1.52 goals against average this season. Four of Bates' five losses on the campaign have come at the hands of teams who have qualified for the NCAA Division III Tournament.
In other ECAC tournament first round action: No. 1 Wellesley plays host to No. 8 Southern Maine; No. 3 Keene State entertains No. 6 Williams; and No. 5 Amherst hosts No. 4 Springfield.
For more information on Bates women's soccer, please visit our web site at http://www.bates.edu/sports/wsoccer.html
# # #
---