May 10, 2001

Contact: Adam Levin
Phone: (207) 786-6411
FOR IMMEDIATE RELEASE
FLYNN, SMITH NAMED TO ALL-NESCAC WOMEN'S LAX TEAM
LEWISTON, Maine — Senior attack Erin Flynn of Newton, N.J., and first-year midfielder Carrie Smith of Chevy Chase, Md., have both been named to the All-New England Small College Athletic Conference (NESCAC) second team for their performances this season.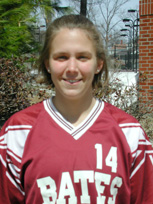 Flynn, a tri-captain, led the Bobcats in goal-scoring for the fourth consecutive year in 2001 with a career-high 34 tallies, while her 39 points were second-best on the team. Flynn also led the team with 85 shots on goal for a .400 shooting percentage. She tallied eight games of three goals or better this season, including a season-high five goals versus in-state foe Colby College on April 5. For her career, Flynn ranks among the top three at Bates with 111 goals and 132 points. She has started 51 of 53 games for the Bobcats over the past four years.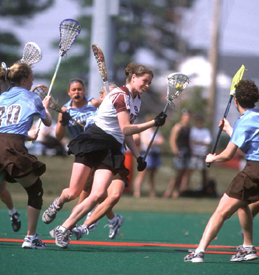 Smith was third on the team with 28 goals, while tying with two other players for third place with 36 points. She was also one of Bates' best defensive midfielders, leading the team with 87 draw controls and 69 ground balls, while finishing with 27 caused turnovers. Her 5.12 draw controls-per-game average was second-best in NCAA Division III play this season. The Bobcats finished the regular season ranked sixth in the nation as a team in that category and 10th in ground balls per game. Smith posted five hat tricks this season, scoring four goals in a game three times. In an April 8 contest against Babson College, she recorded a career-high six points with four goals and two assists.

Under third-year head coach Wynn Hohlt, the Bates College women's lacrosse (9-8) team had its most successful season in six years. The Bobcats opened the season with a 6-0 record that was the second-best start in program history. Bates was nationally ranked for the first time since 1994 and returned to the postseason for the first time since 1995, reaching the ECAC Division III New England tournament quarterfinals.
Flynn is a 1997 graduate of Blair Academy. She is the daughter of George and Linda Flynn, Newton, N.J.
Smith is a 2000 graduate of Georgetown Day High School. She is the daughter of Jeff and Jane Smith, Chevy Chase, Md.
For more information on Bates women's lacrosse, please visit our web site at http://www.bates.edu/sports/wlax.html.
# # #
---