February 18, 2001

Contact: Adam Levin
Phone: (207) 786-6411
FOR IMMEDIATE RELEASE
BATES WOMEN'S HOOPS TO HOST WILLIAMS IN FIRST ROUND OF NESCAC TOURNAMENT
LEWISTON, Maine - The Bates College women's basketball team has earned the fourth seed in the inaugural New England Small College Athletic Conference (NESCAC) tournament. The Bobcats (17-7, 7-2 NESCAC) will host fifth-seeded Williams College (12-12, 4-5 NESCAC) in a first-round match-up on Tuesday, Feb. 20 at 7:30 p.m. in Alumni Gymnasium. Ticket prices will be $3 for adults, $1 for students.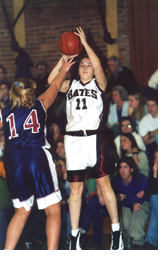 This will be the second meeting of the season between Bates and Williams. On Feb. 10, the Bobcats defeated the Ephs, 81-71, in Alumni Gym. Bates placed four players in double figures in the contest, led by senior forward Kate McLaughlin of Laconia, N.H., who recorded one of her seven double-doubles of the season with 16 points and 14 rebounds. Williams leads the all-time series between the two teams, 6-4, but the Bobcats have won four of the last five meetings.
Other first round matchups in the NESCAC tournament feature No. 2 Colby (18-6, 7-2 NESCAC) hosting No. 7 Tufts (14-8, 4-5 NESCAC) and No. 3 Bowdoin (16-7, 7-2 NESCAC) taking on No. 6 Middlebury (15-8, 4-5 NESCAC).
The semifinals and finals of the tournament will be played at top-seeded Amherst College (21-3, 8-1 NESCAC). The semifinal games will take place Friday, Feb. 23 at 6 and 8 p.m., with the title game for the NESCAC's berth in the NCAA Division III women's basketball tournament played Saturday, Feb. 24 at 7 p.m.
Tuesday's game will be broadcast live on the radio on WRBC-91.5 FM. WRBC is available over the internet at http://www.bates.edu/wrbc.
# # #
---