May 21, 2001

Contact: Adam Levin
Phone: (207) 786-6411
FOR IMMEDIATE RELEASE
WHITING CHOSEN TO ACADEMIC ALL-DISTRICT SOFTBALL TEAM
LEWISTON, Maine —Bates College sophomore Krissie Whiting of Contoocook, N.H., has been named to the Verizon Academic All-District I softball first team, earning a spot on the national ballot as a utility player.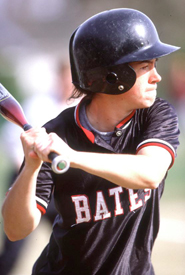 Whiting was Bates' most versatile player this season, starting both on the mound and in the outfield. Whiting started 14 games a pitcher, completing 13 of them. She led the team in wins (10), earned run average (1.84, seventh best in the NESCAC) and strikeouts (54). At the plate, Whiting topped the squad in hits (35), at bats (104), batting average (.340), stolen bases (13) and total bases (47) while tying for the team lead in runs scored (20). Her 35 hits marked Bates' single-season record.
Whiting is a two-time All-NESCAC softball player. She was named to the all-conference second team as a member of the women's soccer team in the fall. An English major, Whiting is a two time Academic All-NESCAC selection and a three-time Dean's list student.
Whiting is the fifth Bates student-athlete selected to a Verizon Academic All-District team this year. She joins volleyball seniors Kate Hagstrom and Kristina Godek, men's basketball junior Billy Hart, all of whom were second team picks, and field hockey senior Peg Ficks, a first-team All-District selection and a second-team Academic All-American.
Whiting is a 1999 graduate of Hopkinton High School. She is the daughter of John and Anne Whiting, Contoocook, N.H.
For more information on Bates softball, please visit our web site at http://www.bates.edu/sports/softball.html.
2001 Verizon Academic All-District I Softball Team

Lucy Campbell, Jr., IF, Wheaton (Mass.), Anson, Maine, economics
Shanna Fairchild, Sr., IF, Western Connecticut, N. Fairfield, Conn., biology
Melissa Frantine, Gr., OF, Rensellaer, Green Island, N.Y., biochemistry
Debra Glickstein, Sr., OF, Wesleyan (Conn.), Scarsdale, N.Y., government
Abby Hanrahan, So., P, Ithaca College, Forest, Ill., television/radio
Lisa Jusino, Sr., C, Adelphi, East Meadow, N.Y., communications
Lizabeth Oppenheimer, So., IF, SUNY-Oneonta, Webster, N.Y., biology
Laura Remja, Sr., IF, Ithaca College, Hewitt, N.J., television/radio
Krissie Whiting, So., UT, Bates, Contoocook, N.H., English 
Sherran Wilson, Sr., P, Dowling, Marietta, Ga., psychology
Holly Zelenkewich, Jr., OF, Teikyo Post, Winchester, Conn., biology/environmental services

# # #
---