Oct. 26, 2000

Contact: Adam Levin
Phone: (207) 786-6411
FOR IMMEDIATE RELEASE
WANLESS NAMED NESCAC VOLLEYBALL PLAYER OF THE WEEK
LEWISTON, Maine - For her part in the Bates College volleyball team's 3-2 week, first-year outside hitter Liz Wanless of Belleville, Ill., has been named New England Small College Athletic Conference (NESCAC) Player of the Week.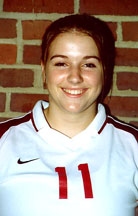 Wanless started the week by converting 17 of her 33 kill attempts in Bates' 3-1 win over in-state rival Colby College on Oct. 18, clinching the Colby-Bates-Bowdoin (CBB) conference championship for the Bobcats. She also led the Bobcats, ranked No. 4 in New England, to a 2-2 record and a fourth place finish at the Hall of Fame Tournament, averaging 5.27 kills in 15 games. Wanless paced Bates with a 33-kill, 12-block performance as the Bobcats rallied from a 2-1 deficit to defeat Wheaton College in the tourney opener. Her .413 hitting percentage in Bates' four-game win over Springfield, the No. 2 ranked team in New England, was good for second on the team and helped propel the Bobcats to the championship bracket. In the semifinal match, Bates played Division II University of Puerto Rico and lost in three games, 6-15, 6 15, 3-15. Despite Wanless's team-leading 15 kills and three aces, Bates fell in three games to the No. 5 ranked team in the region, Amherst, in the consolation match.
For the week, Wanless averaged a team-best 5.05 kills per game, with 96 kills in 19 games. She hit .354 in the five matches, and added six aces and 39 digs. Her 4.19 kills per game average leads the NESCAC. Under first-year head coach Jen Bowman, the Bobcats are 24-7 (8-2 NESCAC), and currently tied for first place in the conference.
For more information on Bates volleyball, please visit our web site at http://www.bates.edu/sports/volleyball.html
# # #
---