February 28, 2001

Contact: Adam Levin
Phone: (207) 786-6411
FOR IMMEDIATE RELEASE
WALKER NAMED TO ALL-NESCAC MEN'S HOOPS SECOND TEAM
LEWISTON, Maine - Bates College junior guard Ed Walker of Roxbury, Mass., has been selected to the 2000-01 New England Small College Athletic Conference (NESCAC) All-Conference second team.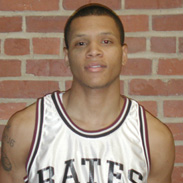 Walker, a two-year co-captain, led the Bobcats by averaging 15.5 points and 7.1 rebounds per game, ranking him eighth and seventh in the NESCAC in those categories respectively. He also topped the team with 34 steals and was third with 54 assists. The only Bates player to start all 24 games this season, Walker led the Bobcats in scoring 12 times and in rebounding seven times, recording five double-doubles in the process. He tallied a career-high 30 points against Trinity on Jan. 27, while becoming the fifth junior and 23rd player overall to score his 1,000th career point Feb. 17 against Connecticut College.
Bates finished the 2000-01 season with a 13-11 record. The campaign included a school-record nine-game winning streak and the program's first appearance in a regional NCAA poll since 1992-93. Walker was one of four Bates players to score his 1,000th career point this season, three of whom will be returning next year.
"Ed had a great season," said head coach Joe Reilly. "He was a terrific leader, both on and off the court. His game has improved every year since he has been at Bates and I only expect that trend to continue."
Walker is a 1998 graduate of Charlestown High School.
For more information on Bates men's basketball, please visit our web site at http://www.bates.edu/sports/mhoops.html.
Click here for the entire NESCAC All-Conference team.
# # #
---