Nov. 6, 2000

Contact: Adam Levin
Phone: (207) 786-6411
FOR IMMEDIATE RELEASE
BATES VOLLEYBALL QUALIFIES FOR NCAA TOURNAMENT Bobcats Place Three on All-NESCAC Team
LEWISTON, Maine -The Bates College volleyball team has earned an at-large berth in the NCAA Division III Championship tournament following Saturday's second-place finish in the New England Small College Athletic Conference (NESCAC) tournament. The Bobcats are the third seed in the New England region and will face No. 6 Bridgewater State College, champions of the Massachusetts State College Athletic Conference (MASCAC), at 7:30 p.m. on Thursday, Nov. 9 at Wellesley College in Wellesley, Mass.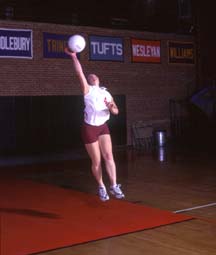 Under first-year head coach Jen Bowman, the Bobcats (29-8) are making their second appearance in the NCAA Championships and their first since 1993. This is Bates' third-straight appearance in the post-season. The Bobcats won the Eastern College Athletic Conference (ECAC) Division III North title in 1998 and 1999. Bowman is making her second trip to the NCAAs, having coached Frostburg State College to its first tournament appearance last year.
"The entire team is thrilled by this opportunity to continue its season in the NCAA Tournament," Bowman said. "They have put in a lot of hard work to be in this position."
Women's volleyball is sponsored by 394 NCAA Division III institutions. Of the 48 teams that qualified for the NCAA tournament, only 15 spots were allocated to at-large teams. Only seven of those spots were available to runners-up from the 33 conferences with automatic NCAA tournament bids for their champions.
On the court, Bates is led by three All-NESCAC selections. Senior setter Kate Hagstrom of Portola, Calif., is a four-time first-team All-NESCAC selection, having been named conference Rookie of the Year in 1997 and Player of the Year in 1999. Hagstrom is Bates' career leader with 461 service aces, currently third on the all-time NCAA Division III list. She was also named the 2000 Maine Player of the Year. Junior outside hitter Lauren Fennessey of Joplin, Mo., was named the 2000 NESCAC Defensive Player of the Year, the first time that award has been presented. A second-team All-NESCAC selection, Fennessey averaged 3.20 digs and 3.17 kills per game, making her one of two players among the top 10 in the conference in both categories. First-year outside hitter Liz Wanless of Belleville, Ill., earned first-team All NESCAC honors and was selected as conference Rookie of the Year. She led the conference with 4.15 kills per game and had a .321 hitting percentage. In the other first-round match to be played Nov. 9, No. 4 seed Gordon College will face No. 5 Johnson and Wales University. The winner of that match will face regional host and top seed Wellesley in the second round at 7:30 p.m. on Nov. 10, while the winner of the Bates-Bridgewater State match will take on No. 2 Amherst College at 5 p.m. The regional finals will take place at 7 p.m. on Nov. 11 at Wellesley.
For more information on Bates volleyball, please visit our web site at http://www.bates.edu/sports/volleyball.html
To see the entire NCAA Division III volleyball bracket, visit http://www.ncaavolleyball.net.
# # #
---