Nov. 16, 2000

Contact: Adam Levin
Phone: (207) 786-6411
FOR IMMEDIATE RELEASE
BATES VOLLEYBALL PLACES THREE ON ALL-REGION TEAMS
LEWISTON, Maine -The Bates College volleyball team, NCAA Division III tournament regional finalists in 2000, has placed three members on the first team All-New England squads named by the American Volleyball Coaches' Association (AVCA) and the New England Volleyball Coaches' Association (NEWVA). Senior setter Kate Hagstrom of Portola, Calif., was named Player of the Year by NEWVA. Rookie outside hitter Liz Wanless of Belleville, Ill., earned Rookie of the Year honors from both organizations, while junior outside hitter Lauren Fennessey of Joplin, Mo., rounded out the Bobcat trio.
Under first-year head coach Jen Bowman, the 31-9 Bobcats matched their highest tournament finish ever. The third seed in the New England region, Bates defeated No. 6 Bridgewater State, 3-1, and No. 2 Amherst, 3-2, to reach the regional finals before falling to No. 1 Wellesley College. "This was a fun team to have been part of," Bowman said. "They showed a lot of heart, winning most of their close matches."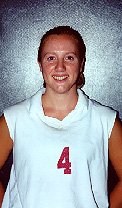 Hagstrom was named to the AVCA All-New England first team for the third time and to the All-NEWVA team for the fourth time. She earned Maine Player of the Year honors in 2000 and New England Small College Athletic Conference (NESCAC) Player of the Year honors in 1999. Her 1,512 assists and 104 service aces led the team for the fourth time in her career, making her Bates' all-time leader in both catagories. Her 469 career aces are third on the all-time NCAA Division III list. She also finished second on the team with 305 digs. In Hagstrom's four years at Bates, the Bobcats compiled a 108-47 record and won two ECAC championships in addition to this year's NCAA trip.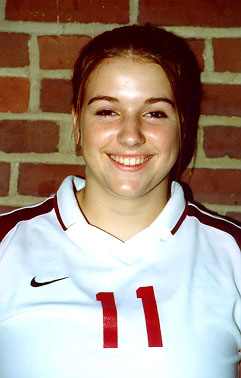 Wanless led Bates with 576 kills this season. She also became the second straight Bobcat to top the NESCAC attack standings, averaging 4.05 kills per game. She was second on the team with 77 service aces and third with 263 digs and a .308 hitting percentage. Wanless was named to two All Tournament teams. She had previously earned NESCAC and Maine Rookie of the Year honors, earning a first-team All-NESCAC nod as well.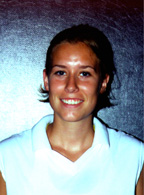 Fennessey, a second-team All-NESCAC selection, was the conference's Defensive Player of the Year. She recorded 495 digs (3.28 digs per game) and 474 kills (3.14 kills per game) this season, making her one of only two players among the top 10 in the league in both categories. Fennessey's 37 blocks and 34 block assists were both third on the team. Fennessey earned two All-Tournament selections and one NESCAC Player of the Week honor during the season.
For more information on Bates volleyball, please visit our web site at http://www.bates.edu/sports/volleyball.html
# # #
---