May 9, 2001

Contact: Adam Levin
Phone: (207) 786-6411
FOR IMMEDIATE RELEASE
LENT, WHITING NAMED TO ALL-NESCAC SOFTBALL TEAM
LEWISTON, Maine —Two Bates College softball players, senior shortstop Laura Lent of Clinton, Mass., and sophomore pitcher/outfielder Krissie Whiting of Contoocook, N.H., have been named to the All-New England Small College Athletic Conference (NESCAC) second team for their play in the 2001 season.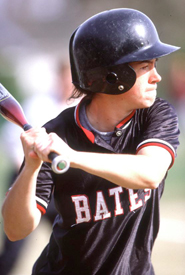 Whiting was Bates' most versatile player this season, starting both on the mound and in the outfield. Whiting started 14 games a pitcher, completing 13 of them. She led the team in wins (10), earned run average (1.84, seventh best in the NESCAC) and strikeouts (54). At the plate, Whiting topped the squad in hits (35), at bats (104), batting average (.340), stolen bases (13) and total bases (47) while tying for the team lead in runs scored (20). Her 35 hits marked Bates' single-season record. This is Whiting's second appearance on the All-NESCAC softball team and her third All-NESCAC selection overall. She was named to the all-conference second team as a member of the women's soccer team in the fall.
"Krissie was a rock for our team all season long," said third-year head coach Gwen Lexow. "She is a very talented athlete, a fierce competitor and a tremendous teammate."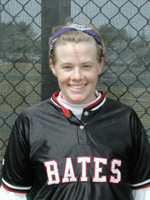 Lent started all 31 games for the Bobcats, 26 at shortstop and five at third base. She trailed only Whiting this season with 32 hits, 97 at bats, 40 total bases and a .330 batting average. Lent and Whiting tied for the team lead with 20 runs scored. Lent has established four career records in her tenure at Bates: hits (93), singles (63), doubles (20) and runs scored (75). This is Lent's first All-NESCAC recognition.
"Laura has had a wonderful career at Bates," Lexow said. "The intensity and leadership she showed on and off the field will be missed."

Lexow led the Bobcats to an 18-13 record this season, marking the third straight year that Bates has established a record for wins in a season. After a slow start, the team won 11 of its last 12 games, including seven of eight on their new facility at Lafayette Street Field. They posted a 7-2 record in one-run games and were 3-0 in extra innings with all but two starters returning for the 2002 season.
Whiting is a 1999 graduate of Hopkinton High School. She is the daughter of John and Anne Whiting,Contoocook, N.H.
Lent is a 1997 graduate of Clinton High School. She is the daughter of John and Claire Lent, Clinton, Mass.
For more information on Bates softball, please visit our web site at http://www.bates.edu/sports/softball.html.
# # #
---