March 14, 2001

Contact: Adam Levin
Phone: (207) 786-6411
FOR IMMEDIATE RELEASE
SHAH NAMED WOMEN'S SQUASH ALL-AMERICAN
Illig elected WISA president
LEWISTON, Maine — Bates College junior Aisha Shah of Bombay, India, has been named an honorable mention All-American by the Women's Intercollegiate Squash Association (WISA), making her the first squash player, male or female, in 15 years of Bates varsity squash history to earn the honor.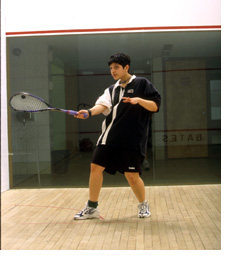 Shah, who has played in the No. 1 position for the Bobcats since 1998-99, posted an 18-9 record this season. Shah won two of three matches for Bates at the Howe Cup team championships at Yale Feb. 16-18, including a convincing 3-0 win over her opponent from Middlebury in which she did not lose a point. The Bobcats finished the season with a 13-11 record and a ranking of 13th in the nation, matching the highest ranking in school history. Shah also won three matches at the WISA individual national championships at Harvard March 2-4, reaching the semifinals of the second consolation bracket. With her 41-22 career record, she boasts the most victories of any No. 1 player on Bates' all-time list.
"Aisha had a terrific season," said head women's squash coach John Illig. "And she still has not reached her full potential. Aisha can be even better next year."
In addition to Shah's honor, WISA elected coach Illig as its next president. Illig, who served as the organization's vice president from 1998 to 2000, will serve as president until 2003. He joins former Bates women's squash coach Herb Bunker on the organization's staff. Bunker, the group's executive secretary, was recently presented with a Lifetime Achievement award for his service to WISA. In addition to serving as the executive secretary, he has been instrumental in their presence on the World Wide Web over the past two years.
For more information on Bates women's squash, please visit our web site at http://www.bates.edu/sports/wsquash.html.
# # #
---