May 7, 2001

Contact: Adam Levin
Phone: (207) 786-6411
FOR IMMEDIATE RELEASE
NINE NAMED ALL-NEW ENGLAND FOR BATES MEN'S TRACK
Sawler, Zwick Claim Regional Titles
LEWISTON, Maine —Paced by a pair of championship performances and nine All New England honorees, the Bates College men's track and field team placed sixth, with 46 points, out of the 27 teams who scored points at the New England Division III outdoor track and field championships.
Leading the way for the Bobcats were a pair of individual champions. Senior Erik Zwick of Virginia Beach, Va., successfully defended his title in the 400-meter dash with a time of 48.57 seconds, just .07 seconds off the provisional qualifying time for the NCAA Division III championships.
Junior Jaime Sawler of Stratham, N.H., was Bates' only student-athlete to earn multiple All-New England honors in individual events. Sawler remained undefeated against Division III competition in the hammer throw with a heave of 180 feet, 7 inches, almost four feet better than the second-place finisher. He also placed fourth in the discus throw with a toss of 139 feet, 11 inches.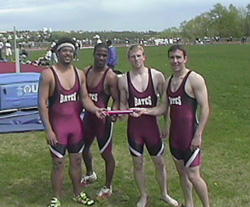 In addition to his New England title in the 400, Zwick helped anchor Bates' 4x100-meter relay. Zwick, along with teammates Sean Atkins of New York, N.Y.; Kevin Jackson of Woodbury, N.J.; and Pat Boyaggi of Cleveland, Ohio, helped the Bobcats finish in second place with a time of 42.40 seconds. The relay set a new school record in the process, shaving .09 seconds off the previous record set in 1999. Jackson, a senior, also garnered an individual All-New England honor with his fifth place finish in the 110 meter high hurdles (15.31 seconds).
Three other Bates field athletes took home All-New England honors: junior Greg Hurley of Arlington, Mass., placed fifth in the hammer throw (169-10), while classmate Jesse Carney of Brunswick, Maine, took seventh in the discus (129-10). First-year pole vaulter Matt Ondra of New Tripoli, Pa., tied for fifth with a vault of 13 feet, 3.5 inches.
Complete results of the meet, held at Connecticut College, are available courtesy coolrunning.com.
# # #
---