May 15, 2001

Contact: Adam Levin
Phone: (207) 786-6411
FOR IMMEDIATE RELEASE
MACDONALD SELECTED TO NCAA INDIVIDUAL TOURNEY
LEWISTON, Maine — Bates College sophomore Alex MacDonald of Bridgewater, Conn., has been selected as one of eight players to represent the East region at the 2001 NCAA men's tennis individual championships, held at DePauw University in Greencastle, Ind., May 21-23.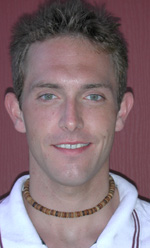 MacDonald, the Bobcats' No. 1 player, posted a 19-8 record in the 2000-01 season, including an 11-1 mark in individual tournaments in the fall. He was 8-6 this spring, reaching the quarterfinals of No. 1 flight at the New England Small College Athletic Conference (NESCAC) championships. Behind MacDonald's fine play this season, Bates posted a 9-4 record and made their second consecutive trip to the NCAA Division III tournament. The Bobcats dropped their first-round match to NESCAC foe Trinity College.
MacDonald is the first Bates player selected for the individual tournament since 1995, when Jeff Poleshek and Mark Erelli (both Class of 1996) each made the tournament. Bates has produced two All-Americans in men's tennis, Bud Schultz (Class of 1981) and Paul Gastonguay (Class of 1989), the team's current head coach and 2001 NESCAC Coach of the Year. Players who reach the quarterfinal round of the tournament earn All-America honors.
The draw for the NCAA individual tournament will be released on Sunday, May 20. It will be available on DePauw's official Web site for the tournament, http://www.depauw.edu/ath/ncaatennis.
For more information on Bates College men's tennis, please visit our web site at http://www.bates.edu/sports/mtennis.html.
# # #
---