March 22, 2001

Contact: Adam Levin
Phone: (207) 786-6411
FOR IMMEDIATE RELEASE
McLAUGHLIN NAMED HONORABLE MENTION ALL-AMERICAN
LEWISTON, Maine - Bates College senior forward Kate McLaughlin of Laconia, N.H., has earned Honorable Mention All-American honors from the Women's Basketball Coaches Association (WBCA) for the 2000-01 season.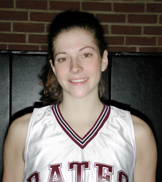 In addition to first-team All-District honors by the WBCA, she earned four other first-team All-New England honors. She was selected by the Eastern College Athletic Conference (ECAC), New England Women's Basketball Association (NEWBA), New England Small College Athletic Conference (NESCAC), and the Maine Women's Basketball Coaches Association (MWBCA). She is the Bobcats' fifth WBCA All-American, and third in a row. She joins Julie Roche (1991), Sarah Bonkovsky (1997), and Emily King (1999-2000).
McLaughlin averaged 15.9 points and 8.4 rebounds per game this season, leading the Bobcats in both categories. She ranked fifth in the conference in scoring and eighth in rebounding, while her 45.7 shooting percentage was fifth best. She also tied for second on the team with 13 blocked shots and ranked second on the team with 34 steals. McLaughlin led the Bobcats in scoring 18 times and rebounding 15 times, recording eight double-doubles in the process. Her top scoring performance came Jan. 11 against Colby, when she scored a career-high 26 points, while her 19 rebounds against Trinity on Jan. 27 were both a personal and team-high performance.
McLaughlin is ranked third on Bates' all-time scoring list with 1,208 points, while her 635 rebounds are eighth all time. Bates has posted an 81-22 record in her four seasons, reaching the postseason each time.
For more information on Bates women's basketball, visit our home page at http://www.bates.edu/sports/whoops.html.
# # #
---