January 15, 2001

Contact: Adam Levin
Phone: (207) 786-6411
FOR IMMEDIATE RELEASE
McLAUGHLIN, WILSON NAMED NESCAC
BASKETBALL PLAYERS OF THE WEEK
LEWISTON, Maine - Bates College basketball players Kate McLaughlin of Laconia, N.H., and Alex Wilson of Duxbury, Mass., have each been named Player of the Week for Jan. 15 by the New England Small College Athletic Conference (NESCAC).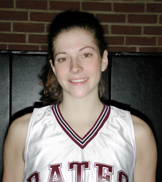 McLaughlin, a senior co-captain, helped the Bobcat women improve to 7-4 on the season with wins over a pair of teams in the New England Women's Basketball Association top 10. Bates defeated No. 4 Colby, 75-74, in overtime at home Jan. 11, and then beat top-ranked Babson, 69-58, Jan. 13 in Wellesley, Mass. McLaughlin also earned Player of the Week honors from the Maine Women's Basketball Coaches' Association (MWBCA) and New England Women's Basketball Association (NEWBA).
McLaughlin averaged 24 points and 8.5 rebounds per game for the week, shooting 46.8 percent from the field. She scored a career-high 26 points against Colby, including the Bobcats' last four points of regulation and six of the team's eight points in overtime. McLaughlin also grabbed 10 rebounds for her second double-double of the season. The win was Bates' eighth straight over the White Mules, with three of those wins coming in overtime.
McLaughlin also came up big down the stretch against Babson, scoring seven of her team-high 22 points in the final three minutes. The Beavers were ranked 19th in the nation in the most recent D3hoops.com national poll. For the season, McLaughlin is third in the NESCAC in scoring (16.5 ppg) and eighth in rebounding (7.9 rpg).
"Kate had a couple of outstanding games last week," said Bates head coach Jim Murphy. "Hopefully, she and the rest of the team can keep up their hard work as we enter conference play."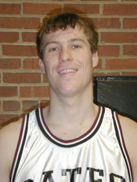 Wilson, a junior, averaged a double-double in three games for the 9-3 Bates men, who extended their current winning streak to seven games, the school's longest since the 1952-53 season. The Bobcats won a pair of home games, 99-64, over Eastern Nazarene on Jan. 9, and 75-58, over Southern Maine on Jan. 11 before defeating NESCAC rival Colby College, 75-69, on Jan. 13 in Waterville. Wilson was also named to the D3Hoops.com Team of the Week.
Wilson poured in 17 points per game over the stretch, while collecting 11 rebounds per game. He also had five blocks, three assists and a steal. Wilson scored 16 points and grabbed a career-high 15 rebounds against Eastern Nazarene in the Bobcats' biggest win since 1998. His season-high 22 points and seven rebounds helped Bates overcome a two-point halftime deficit against Southern Maine.
At Colby, Wilson had 15 points and a game-high 11 rebounds as the Bobcats won in Waterville for the first time since the 1995-96 season. Wilson is averaging 10.8 points per game for the season, fourth best on a team with five players averaging in double figures.
"Alex has really started to find his range on offense this semester," said men's basketball coach Joe Reilly. "With him leading a balanced attack, I'm looking forward to seeing how far this team can go."
For more information on Bates women's basketball, visit our home page at http://www.bates.edu/sports/whoops.html.
For more information on Bates men's basketball, visit our home page at http://www.bates.edu/sports/mhoops.html.
# # #
---