January 10, 2001

Contact: Adam Levin
Phone: (207) 786-6411
FOR IMMEDIATE RELEASE
U.S.O.C. NAMES ILLIG
DEVELOPMENTAL SQUASH COACH OF THE YEAR
LEWISTON, Maine - Bates College head women's squash coach John Illig has been named the 2000 Developmental Coach of the Year by the United States Olympic Committee (USOC).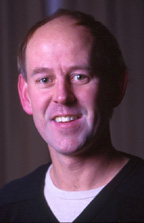 The USOC names National and Developmental Coaches of the Year in 44 Olympic sports. The award honors coaches who work at the grassroots level, developing athletes into America's future Olympic and Pan American hopefuls. National Coach of the Year winners were selected after strong showings at the 2000 Olympic Games in Sydney, Australia, as well as successes in world championships and major event competitions for their respective sports.
"We are so pleased the John has been recognized for his work by the USOC," said Bates Director of Athletics Suzanne Coffey. "The award is testimony to his dedication to the development of his student athletes, both on and off the court."
Illig is in his fifth season coaching the Bates women's squash team. In that time, the Bobcats have posted a 47-39 record, including two of the three winningest seasons in school history. His 1999-2000 squad posted a 14-9 record and 13th-place finish at the Howe Cup, the Women's Intercollegiate Squash Association's (WISA) national championships tournament, the second-best finish ever by a Bates team.
At WISA's postseason awards banquet, Illig and the Bobcats were honored with that organization's Clarence C. Chaffee Award, recognizing the team's "values of sportsmanship, character, hard work and teamwork." Recent Bates graduate Emilie Soisson (Class of 2000) was presented with the Anne Wetzel Award, given "to a senior who has started her squash career at the collegiate level. This individual must show outstanding growth technically as a player, display a sound understanding of the rules of squash and must exhibit positive on-court poise and demeanor." Illig is the only person to have coached two Wetzel Award recipients, having coached 1995 winner Katie LaVigne while at Colby College.
"I am flattered to receive this award, especially from such a tight-knit community as the squash world," Illig said. "It is really a testament to the talented student-athletes I have had the pleasure to work with over the years."
The USOC will present the National and Developmental Coach of the Year awards for each sport on Saturday, Jan. 13, at the fifth annual National Coaching Recognition Weekend in New York City, at which time they will also announce the national award winner.
For more information on Bates women's squash, visit our home page at http://www.bates.edu/sports/wsquash.html.
Click here for the complete list of USOC Coaches of the Year.
# # #
---