December 13, 2000

Contact: Adam Levin
Phone: (207) 786-6411
FOR IMMEDIATE RELEASE
HASTINGS NAMED ECAC DIVER OF THE WEEK
LEWISTON, Maine - Bates College junior Andrew Hastings of Weston, Mass., has been named the Eastern College Athletic Association (ECAC) Division III Diver of the Week for Dec. 13.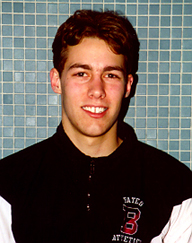 Hastings helped the Bates men to a 143-97 home victory over in-state rival Bowdoin College on Dec. 11. He won both the one- and three-meter diving events for the second time this season. Hastings established a new Tarbell Pool record for six dives in the one-meter event with a score of 271.85. The mark was just under 11 points short of Hastings' school record 282.82 for six dives, set last Feb. 8 against Bowdoin.
Hastings' score also met the 2001 NCAA championship qualifying standard for the first time this season. He needs to exceed 265 points at one more dual meet in 2001 to reach the NCAAs for the third year in a row. Hastings has earned four previous All-America honors, once each in one- and three-meter diving in his first two years at Bates.
The Bobcats, 3-0 this season under coach Dana Mulholland, are on break until a trip to Vermont Jan. 6-7 to take on Norwich University and Middlebury College. They also have one meet in the Boston area in 2001, on Jan. 27 at Tufts University.
Hastings is a 1998 graduate of Weston High School. He is the son of Ripley and Elizabeth Hastings, Weston, Mass.
For more information on Bates swimming and diving, please visit our web site at http://www.bates.edu/sports/swimming.html
# # #
---