May 3, 2001

Contact: Adam Levin
Phone: (207) 786-6411
FOR IMMEDIATE RELEASE
GASTONGUAY NAMED NESCAC TENNIS COACH OF THE YEAR
LEWISTON, Maine — Bates College men's tennis coach Paul Gastonguay '89 has been selected as the 2001 New England Small College Athletic Conference (NESCAC) men's tennis Coach of the Year.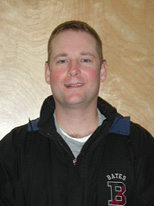 Gastonguay led Bates to a third-place finish at last weekend's NESCAC championships, held April 27-29 at Williams College. Despite losing three players from the 2000 squad that finished second at the conference championships, the Bobcats scored 18 points, the same number as the year before. Bates was paced at the championships by junior Ben Lamanna of Barrington, R.I., who was the runner up at the No. 5 singles slot. The Bobcats' third doubles tandem of senior Milko Todorov of Sofia, Bulgaria, and sophomore David Meyer of Weston, Conn., also reached the finals of their flight.
Bates, ranked fifth in the East in the most recent Intercollegiate Tennis Association poll, has a 9-3 record in dual matches this season. Among their victories are wins over No. 3 Amherst, No. 6 College of New Jersey, No. 8 Middlebury and No. 10 Colby. The Bobcats also finished ahead of Amherst and No. 4 Bowdoin at the NESCAC championships. After a posting an 8-2 regular season in 2000, Gastonguay hopes to lead Bates to back-to-back NCAA Division III tournament appearances for the first time in the program's history.
As a player at Bates, Gastonguay is one of two Bobcat men's tennis All-Americans, along with Bud Schultz (Class of 1981). He is Bates' all-time leader in career victories (149) and boasts three of the top four single season win totals in school history. Gastonguay was a finalist for the NCAA's prestigious Arthur Ashe Award as a senior.
"I am very flattered to earn this honor," Gastonguay said. "It is really a testament to the team and how hard they have worked. Every player has contributed to our success this year."
# # #
---