Nov. 28, 2000

Contact: Adam Levin
Phone: (207) 786-6411
FOR IMMEDIATE RELEASE
BATES FOOTBALL PLACES FOUR ON ALL-NESCAC TEAM
Gray, Guerriero Repeat; Foley Named Defensive Rookie of the Year
LEWISTON, Maine -Four members of the Bates College football team were named to the 2000 All-NESCAC squad today. The Bobcats (1-7) were led by two first team selections, senior defensive lineman Ryan Gray of Mansfield, Mass., and placekicker Rejean Guerriero of Spofford, N.H. Sophomore running back Sean Atkins of New York, N.Y., was named to the All-NESCAC second team, while first-year linebacker Pat Foley of Newburyport, Mass., was named NESCAC Defensive Rookie of the Year.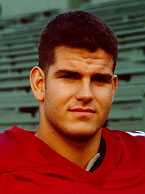 Gray was named All-NESCAC for the second year in a row. He tied for second on the team with 60 tackles, including 43 solo stops and 13.5 tackles for losses totalling 41 yards, all career highs. Gray broke up four passes and had four quarterback pressures. He caused one fumble and had one blocked kick. Gray's top individual performance came Oct. 21 against league co-champion Middlebury, when Gray recorded 11 tackles (nine solo), four for losses of 16 yards. He also blocked a field goal and broke up a pass against the Panthers. For his career, Gray recorded 160 tackles (108 solo, 37 for a loss) and 16.5 sacks.
"Ryan is a talented player who developed into one of the top defensive linemen in the league over the course of his career," said head coach Mark Harriman. "His dedication on the field and in the weight room set a standard for our younger players to follow."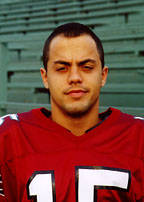 Guerriero is also a two-time All-NESCAC selection. He finished the 2000 season as the Bobcats' second-leading scorer with 39 points. Guerriero hit five of seven field goals, including a career-long 37-yarder against Tufts on Oct. 1, and hit 14 of 15 extra-point attempts. Guerriero tied Bates' career record for field goals when he hit his 18th on Nov. 4 against Bowdoin. Overall, Guerriero hit 18 of 25 field goal attempts (72 percent) and 48 of 54 extra point attempts (89 percent), including 37 in a row over three years.
"I have never been associated with a tougher competitor than Reg," Harriman said. "He is one of the most dedicated players in the program, and it paid off on the field."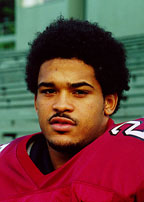 Atkins earns All-NESCAC honors for the first time. In seven starts, he carried the ball 166 times for 812 yards and five touchdowns. A two-time NESCAC Player of the Week, Atkins finished second in the league in rushing, averaging 116 yards per game, while his 4.9 yards per carry and five rushing touchdowns were third in the league. He led the Bobcats with 272 receiving yards and tied for second with 14 receptions. Atkins' 80-yard touchdown rush Sept. 23 against Trinity was the longest in the league this season. In that game, he ran for 218 yards and had 309 combined rushing and receiving yards, the second highest total in Bates history. Atkins' 161 all-purpose yards per game ranked him 23th in the final NCAA Division III statistical rankings.
"Sean does things on the field that not too many others in the NESCAC can do," Harriman said. "He will be instrumental in the program's future."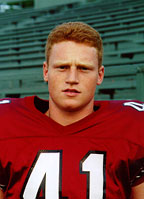 Foley's selection as NESCAC Defensive Rookie of the Year marks the third time a Bates linebacker has won the award in the past five years, joining Frost Hubbard (class of 1996) and senior Bob Rosenthal. Starting seven of eight games, Foley finished fifth on the team with 53 tackles (32 solo, three for a loss). He stepped into Rosenthal's place when the senior captain was lost to injury in the season opener against Trinity and recorded a season-high 10 tackles (six solo) and returned a fumble 25 yards. Foley also led the team with three interceptions, including two in the Bobcats' 17-14 overtime loss to Williams on Oct. 7.
"Pat was thrown into the fire this season, and he responded far beyond our expectations," Harriman said. "He will only continue to get better."
For more information on Bates football, please visit our web site at http://www.bates.edu/sports/football.html
# # #
---