Oct. 12, 2000

Contact: Adam Levin
Phone: (207) 786-6411
FOR IMMEDIATE RELEASE
FOLEY NAMED NESCAC CO-ROOKIE OF THE WEEK
LEWISTON, Maine - Bates College first-year linebacker Pat Foley of Newburyport, Mass., has been named New England Small College Athletic Conference (NESCAC) Co-Rookie of the Week for his Oct. 7 performance against Williams College.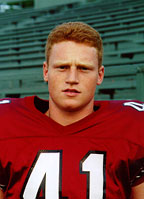 Foley, starting in place of injured senior captain Bob Rosenthal made seven tackles, including six solo stops. He also recorded his first two career interceptions. Foley's first pick halted Williams' first drive of the game, coming inside the Bates 20-yard line less than five minutes into the contest. His second interception came with the game tied, 14-14, late in the second half. Foley picked off Williams back up quarterback Jamiyl Peters near midfield and returned it to the Ephs' 37-yard line with 7:18 left in regulation. The Bobcats could not capitalize on the opportunity and the game went to overtime, where Williams picked up the win with a field goal on their only possession.
Foley helped lead a Bates defense that held Williams 121 yards below its average offensive output from the first two games of the season. In 12 prior meetings between the two teams, Williams had never scored fewer than 28 points against the Bobcats.
"Pat has done a fine job in a tough situation," said head coach Mark Harriman. "He has been thrown into the fire as a rookie in a very competitive league and proved himself very well."
Foley is a 2000 graduate of Newburyport High School. He is the son of Mike and Kathy Foley, Newburyport, Mass.
For more information on Bates football, please visit our web site at http://www.bates.edu/sports/football.html.
# # #
---