March 18, 2001

Contact: Adam Levin
Phone: (207) 786-6411
FOR IMMEDIATE RELEASE
FICKS NAMED TO VERIZON ACADEMIC ALL-DISTRICT TEAM
LEWISTON, Maine — Bates College senior Peggy Ficks of Washington, Conn., has been named to the Verizon Academic All-District I At-Large first team, earning a spot on the 2001 national ballot.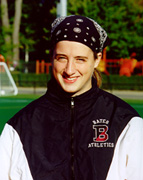 Ficks, captain and starting goalkeeper for the Bates field hockey team, is a two-time All-America selection by the National Field Hockey Coaches' Association. She holds the Bobcat record for career shutouts and is among the top three on Bates' career lists in goals-against average, save percentage and victories. She led Bates to three consecutive postseason berths, including an 11-4 record and the top seed in the Eastern College Athletic Conference (ECAC) tournament in 1999.
An English major, Ficks has been on the dean's list in each of her seven semesters at Bates. She has also been named to the Academic All-NESCAC team five times, including twice as a member of the softball team. She is a member of Bates' Student Athletic Advisory Committee.
Ficks is the fourth Bates student-athlete selected to a Verizon Academic All-District team this year, joining volleyball teammates Kate Hagstrom and Kristina Godek and men's basketball player Billy Hart, all of whom were second team picks.
Ficks is a 1997 graduate of the Taft School. She is the daughter of Robert and Ann Ficks, Washington, Conn.
For more information on Bates field hockey, please visit our web site at http://www.bates.edu/sports/fhockey.html.

2001 Verizon Academic All-District I 
Women's College Division At-Large Team

FIRST TEAM
Heather Babbington, Jr., Western Conn. St., soccer, Bethel, Conn., prof. biology
Jen Bashant, Sr., Clarkson Univ., soccer, Tupper Lake, N.Y., biology
Tori Brown, Sr., SUNY-Cortland, Liverpool, N.Y., elementary education
Lauren Byler, Sr., Ithaca College, cross country, Boyertown, N.Y., English
Erin DeMarco, Sr., Ithaca College, soccer, Latham, N.Y., health/physical education
Peggy Ficks, Sr., Bates College, field hockey, Washington, Conn., English
Susan Gonyea, Jr., RPI, soccer, Scotia, N.Y., civil engineering
Courtney Pederson, Sr., swimming, Univ. of Rochester, River, Alaska, chemistry/German
Caroline Purcell, Jr., fencing, MIT, New York, N.Y., civil engineering
Barbara Swallow, Sr., cross country, Springfield College, Seekonk, Mass., sports biology

SECOND TEAM
Leslie Bagay, Sr., field hockey, Wellesley College, E. Brunswick, N.J., bological science
Elizabeth Burke, Sr., soccer, Western New England Coll., Holyoke, Mass., education
Kate Donhauser, Sr., soccer, Univ. of Rochester, Eliot, Maine, biology/env. science
Mariko Tansey Holbrook, So., cross country, Brandeis Univ., Trumansburg, N.Y., biology
Tracy Marien, So., fencing, Brandeis Univ., Manville, R.I., biology
Kathy Neff, Sr., soccer, Stonehill College, Webster, Mass., psychology
Korey O'Malley, Sr., diving, Hamilton College, Liverpool, N.Y., mathematics/Spanish
Katie Roden, Sr., cross country, RPI, Plattsburgh, N.Y., architecture
Katie Schroth, Sr., cross country, Merrimack College, Attleboro, Mass., electrical eng.
Theresa Uliano, Sr., soccer, Southern Conn. St., Newington, Conn., exercise science
Tristen Weaver, So., swimming, SUNY-Oneonta, Ithaca, N.Y., biology
# # #
---