April 19, 2001

Contact: Adam Levin
Phone: (207) 786-6411
FOR IMMEDIATE RELEASE
FICKS NAMED VERIZON ACADEMIC ALL-AMERICAN
LEWISTON, Maine — Bates College senior field hockey goalkeeper Peggy Ficks of Washington, Conn., has been named to the Verizon Academic All-America College Division Women's Fall/Winter At-Large second team.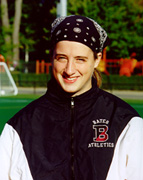 Ficks, who was named to the Academic All-District I first-team in March, is the fourth woman in Bates history to earn Verizon Academic All America honors, joining Nancy Bell (Class of 1984, cross country), Sydnee Brown (Class of 1985, field hockey) and Amanda Colby (Class of 2000, volleyball). Ficks is an English major who boasts a 3.92 grade-point average. She is a seven-time dean's list student and was named to the National Field Hockey Coaches' Association (NFHCA) All-Academic in 1999 and 2000. She is a member of Bates' Student Athletic Advisory Committee.
This is the second All-America award of 2000-01 for Ficks, who was named to the NFHCA All-America team Nov. 16. A captain and starting goalkeeper, Ficks holds the Bobcat record for career shutouts and is among the top three on Bates' career lists in goals-against average, save percentage and victories. She led Bates to three consecutive postseason berths, including an 11-4 record and the top seed in the Eastern College Athletic Conference (ECAC) tournament in 1999.
Ficks is just the third Bobcat athlete to be named an academic All American and an athletic All-American in the same year, joining Colby and Jamie Goodberlet (Class of 1985, track and field).
Ficks is a 1997 graduate of the Taft School. She is the daughter of Robert and Ann Ficks, Washington, Conn.
For more information on Bates field hockey, please visit our web site at http://www.bates.edu/sports/fhockey.html.

2000-01 Verizon Academic All-America 
Fall/Winter College Division At-Large Team 
as selected by the College Sports Information Directors of America


FIRST TEAM
Nicole Bayman, Sr., soccer, Univ. Of Scranton, Long Valley, N.J., Marketing
Laura Byler, Sr., cross country, Ithaca College, Boyertown, Pa., English
Lindsay Collins, Sr., swimming, Johns Hopkins, Durango, Colo., Psychology
Mandi Ewing, Sr., field hockey, Elizabethtown College, McClure, Pa., English Education
Sarah Galzdalski, Sr., swimming, Univ. Of Scranton, Wharton, N.J., Accounting
Sarah Gritter, Sr., cross country, Calvin College, Wauwatosa, Wisc., Math/Computer Science
Maria Harriman, Jr., cross country, Indianapolis, Ligonier, Ind., Psychology
Sarah Keller, Sr., soccer, Nebraska Wesleyan, Lincoln, Neb., Biology
Neala Kendall, Sr., swimming, Kenyon College, Pullman, Wash., Biology
Kristen Lune, Jr., cross country, Widener Univ., Cinnaminson, N.J., Psychology
Jeannette Mott, Jr., cross country, Pittsburg State, St. Mary's, Kans., Psychology
Marie Muhvic, Sr., soccer, UW-Stevens Point, Stevens Point, Wisc., Physical Education
* Andrea Pawliczek, Jr., soccer, Emory Univ., Lexington, Mass., Economics
Annie Schenk, Jr., soccer, Emory Univ., Cincinnati, Ohio, Psychology
Heidi Wolfsberger, Jr., cross country, Moravian Collage, Moosic, Pa., Elementary Ed./Psych. 

SECOND TEAM
Susan Bettcher, Sr., cross country, Denison Univ., Strongsville, Ohio, Pre-Med./Biology
Katie Bjerke, Jr., swimming, North Dakota, Fargo, N.D., Elementary Education
Jessica Camona, Sr., cross country, Baldwin-Wallace, Calion, Ore., Exercise Physiology
Ammie Carnell, Sr., field hockey, Bloomsburg, Harrisburg, Pa., Biology
Erin DeMarco, Sr., soccer, Ithaca College, Latham, N.Y., Health/Physical Education
Margaret Domka, Sr., soccer, UW-Stevens Point, Stevens Point, Wisc., Spanish
Peggy Ficks, Sr., field hockey, Bates College, Washington, Conn., English
Lauren Habenicht, Sr., cross country, Augustana College, Lemont, Ill., Art & History
Erin Kowalick, Sr., swimming, East Stroudsburg, Red Lion, Pa., Recreation
Lisa Leach, Sr., soccer, North Dakota State, Inner Grove Hts., Pa., Electrical Engineering
Becky Mutz, Jr., swimming, Emory Univ., Barrington, Ill., Econ./Environmental Studies
Jenny Nilsson, Sr., soccer, Barry Univ., Masselhohm, Sweden, Marketing
Cherie Peterson, Sr., soccer, Augustana, St. Charles, Ill., Sociology
Caroline Parceli, Jr., fencing, M.I.T., New York, N.Y., Civil Engineering
Katie Sprague, Sr., swimming, Denison Univ., Columbus, Ohio, Psychology

* Academic All-American¨ of the Year
# # #
---