Nov. 16, 2000

Contact: Adam Levin
Phone: (207) 786-6411
FOR IMMEDIATE RELEASE
FICKS NAMED SECOND-TEAM ALL-AMERICAN
LEWISTON, Maine - Bates College senior goalkeeper Peg Ficks of Washington, Conn., has been named a second-team All-American by the National Field Hockey Coaches' Association (NFHCA). Ficks was named an All-American for the second year in a row, earning third-team honors in 1999.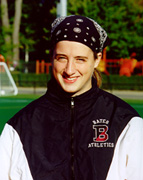 In 15 contests, Ficks posted a 1.45 goals-against average. She made 148 saves and posted a .865 save percentage, playing all but 26 minutes in the cage and helping the team to a 7-8 record and a berth in the ECAC Division III New England championship tournament for the third consecutive year under head coach Wynn Hohlt. Ficks allowed one or no goals 11 times in 2000, posting four solo shutouts.
"Peggy had a terrific season and a fine career at Bates," Hohlt said. "I am glad to see other coaches around the country recognize the presence she had for our team, both on and off the field."
Ficks, the Bobcats' captain, recorded 16 shutouts for her career, making her Bates' all-time leader. She played in 58 of Bates' 59 games in her four year career, starting all but one of those contests. Her 1.39 career goals against average, 597 career saves and .882 save percentage all rank second on Bates' all-time list, behind Bobcat All-American Anne-Marie Van Heuven (class of 1988). Ficks is the fourth All-American in Bates field hockey history and the first to be named to multiple All-America teams during her career. She is also a three-time Academic All-NESCAC selection.
Ficks is a 1997 graduate of The Taft School. She is the daughter of Robert and Ann Ficks, Washington, Conn.
For more information on Bates field hockey, please visit our web site at http://www.bates.edu/sports/fhockey.html
# # #
---