Oct. 30, 2000

Contact: Adam Levin
Phone: (207) 786-6411
FOR IMMEDIATE RELEASE
FIELD HOCKEY EARNS ECAC TOURNEY BERTH
Bobcats Head To Tufts For First Round
LEWISTON, Maine - For the third year in a row, the Bates College field hockey team has earned a berth in the Eastern College Athletic Conference (ECAC) Division III New England championship tournament. The eighth-seeded Bobcats (7-7) will play at top-seeded Tufts University (9-7) on Nov. 1 at 2 p.m.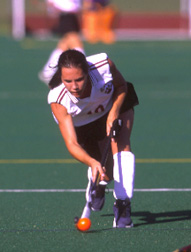 This ECAC quarterfinal marks the second meeting of the season between these two New England Small College Athletic Conference (NESCAC) rivals. On Oct. 1, the Bobcats defeated the Jumbos, 2-1, in Medford, Mass. After falling behind, 1-0, in the first half, the Bobcats scored twice in a two-minute span in the second period. Sophomore forward Julia Price of Mansfield, Mass., assisted on the first Bates goal and scored the game-winner.
Wednesday's contest will also present a reversal of fortune from last year's ECAC tournament, when Bates earned the top seed and hosted No. 8 Tufts. After a scoreless 70 minutes of regulation, the Jumbos stunned the crowd on Leahey Field five minutes into the overtime period, taking a 1-0 victory en route to finishing second in the tournament.
Bates boasts one of the youngest teams in the NESCAC, with each of its top five scorers coming from the sophomore and first-year classes. Rookie forward Lori Jessup of Hatboro, Pa., leads the squad in scoring with six goals and an assist for 13 points. Sophomore Johie Farrar of West Paris, Maine, has four goals and three assists for 11 points, while Price's six assists are tops on the team. The Bobcat defense is anchored by 1999 All American Peg Ficks of Washington, Conn., in goal.
Other ECAC tournament first round action (higher seeds hosting): No. 2 Keene State vs. No. 7 Mount Holyoke; No. 3 Wellesley vs. No. 6 Clark; and No. 4 Wesleyan vs. No. 5 Connecticut College, another NESCAC matchup.
For more information on Bates field hockey, please visit our web site at http://www.bates.edu/sports/fhockey.html
# # #
---