Nov. 2, 2000

Contact: Adam Levin
Phone: (207) 786-6411
FOR IMMEDIATE RELEASE
FICKS, PRICE NAMED TO ALL-NESCAC FIELD HOCKEY TEAM
LEWISTON, Maine - Bates College senior goalkeeper Peggy Ficks of Washington, Conn., and sophomore forward Julia Price of Mansfield, Mass., have both been selected to the All-New England Small College Athletic Conference (NESCAC) second team, as selected by the conference's 10 coaches.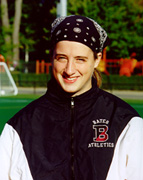 Ficks is honored by the NESCAC for the first time in her career after being named a first-team All-Region and third-team All-America goalkeeper in 1999. In 15 contests this season, Ficks posted a 1.45 goals-against average. She made 148 saves and posted a .865 save percentage while playing all but 26 minutes in the cage. Ficks allowed one or fewer goals 11 times in 2000, posting four solo shutouts. She recorded 16 shutouts for her career, making her Bates' all-time leader in that category. Ficks played in 58 of Bates' 59 games in her four-year career, starting all but one of those contests. Her 1.39 career goals-against average, 597 career saves and .882 save percentage all rank second on Bates' all-time list, behind another Bobcat All-American, Anne-Marie Van Heuven (Class of 1988). Ficks is also a two-time Academic All-NESCAC selection.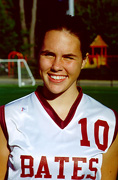 Price was third on the Bobcats in scoring for the second year in a row this season, finishing with two goals and six assists for 10 points. One of the top play-makers in the NESCAC, Price's six assists were tied for fourth best in the conference headed into the postseason. Price played an instrumental role in Bates two conference victories this season, assisting the only goal late in the first half of a 1-0 win over Trinity College Sept. 23, and scoring one goal and assisting another in the second half of a 2-1 win over Tufts University Oct. 1. Price is the Bobcats' third-leading active scorer with 27 career points on eight goals and 11 assists.
The Bates College field hockey team finished the 2000 season with a 7-8 record. The Bobcats qualified for the ECAC Division III New England championship tournament for the third time in three seasons under head coach Wynn Hohlt, dropping their first round match in penalty strokes after 100 scoreless minutes of regulation in which Ficks posted a season-high 20 saves. Nine of 11 starters are expected back for the 2001 season, including their top five scorers.
Ficks is a 1997 graduate of The Taft School. She is the daughter of Robert and Ann Ficks, 80 Greenhill Rd., Washington, Conn.
Price is a 1999 graduate of Mansfield High School. She is the daughter of Derek and Susan Price, Mansfield, Mass.
For more information on Bates field hockey, please visit our web site at http://www.bates.edu/sports/fhockey.html
# # #
---