Sept. 18, 2000

Contact: Adam Levin
Phone: (207) 786-6411
FOR IMMEDIATE RELEASE
FENNESSEY NAMED NESCAC VOLLEYBALL PLAYER OF THE WEEK
LEWISTON, Maine - For her part in the Bates College volleyball team's 6-0 week, junior outside hitter Lauren Fennessey of Joplin, Mo., has been named New England Small College Athletic Conference (NESCAC) Player of the Week.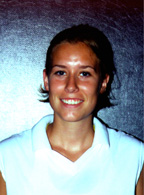 Fennessey started the week by converting all three of her attack chances in Bates' three-game home victory over the University of Southern Maine (15-2, 15-3, 17-15) on Sept. 20. At the Sept. 22-23 MIT Invitational, Fennessey was named to the All-Tournament team as the Bobcats won five straight matches to capture the tournament title. She led Bates with 15 kills and a .565 hitting percentage in a sweep of NESCAC rival Trinity College in the tourney opener. Fennessey followed that up with a 20-kill, 18-dig performance against Springfield College as Bates rallied from a 2-1 deficit to win the fifth game of the match, 15-11, and advance to the championship bracket. The Bobcats entered the match ranked seventh in New England, while Springfield was No. 4 in the region.
Fennessey continued her stellar play in the quarterfinal, leading the team with 18 digs and recording 12 kills in 24 attacks as the Bobcats downed Western Connecticut State University. Bates swept another NESCAC rival, Wesleyan University, in the tournament semifinals, 15-6, 15-9, 15-9, before defeating Skidmore College, the No. 6 team in the New York region, 15-11, 15 6, 9-15, 15-4, in the championship match. Fennessey had 18 kills and 11 digs in the title match, while hitting at a .405 percentage.
For the week, Fennessey averaged a team-best 3.18 digs per game and was second on the squad with 3.41 kills per game. She ranks sixth in the NESCAC in kills per game at 3.26, and is just out of the conference rankings with 2.96 digs per game. Under first-year head coach Jen Bowman, the Bobcats are 11-2, tied as the winningest team in the conference.
Fennessey is a 1998 graduate of Thomas Jefferson Independent Day School, Joplin, Mo.
For more information on Bates volleyball, please visit our web site at http://www.bates.edu/sports/volleyball.html
# # #
---