February 6, 2001

Contact: Adam Levin
Phone: (207) 786-6411
FOR IMMEDIATE RELEASE
DUBOIS EARNS ROOKIE OF THE WEEK HONORS
LEWISTON, Maine - Bates College first-year reserve forward Lauren DuBois of Beverly, Mass., has been named Rookie of the Week by the Maine Women's Basketball Coaches' Association (MWBCA) and by the New England Women's Basketball Association (NEWBA) for the week of Feb. 5.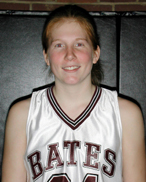 DuBois averaged 16.3 points, 6.7 rebounds and 1.3 assists per game in three contests as the Bobcats went 2-1 last week. She shot 67.9 percent from the floor (19-of-28), including 55.6 percent from 3-point range (five-of nine), and twice recorded career-highs in scoring and rebounding.
Bates opened the week by defeating Dubois' hometown team, Endicott College, 96-47, in Lewiston in their only game in Alumni Gym on Jan. 30. DuBois matched her career-high in that game with 18 points on eight-of-10 shooting from the floor, while grabbing a career-best eight rebounds. She recorded those figures in just 21 minutes of play.
DuBois and the Bobcats faltered in their second game of the week, falling to New England Small College Athletic Conference (NESCAC) leader Bowdoin College, 78-67, in Brunswick, Maine, on Feb. 2. DuBois scored 11 points and grabbed four rebounds in that contest, but helped the Bobcats trim a 21-point second-half deficit to 11 in the final 2:37 of play.
Against NESCAC foe Colby Feb. 3, the Bobcats responded with an 84-80 double-overtime win that handed the White Mules, ranked seventh in New England by NEWBA at the time, their first conference loss. DuBois recorded her first career double-double in that contest, scoring 20 points and grabbing 11 rebounds, both career-best performances. She hit seven of her 10 shots from the floor, including three-of-four on 3-pointers. Dubois' key trifecta with time running down on the shot clock and the game tied, 80-80, in the second overtime period helped Bates ice the game. The Bobcats extending their winning over Colby to nine games, including three of the last four wins in overtime.
"Lauren has had a wonderful season for us off the bench," said Bates head coach Jim Murphy. "Her shooting and tenacity on the boards always seem to give the team a lift."
Dubois is a 2000 graduate of Beverly High School. She is the daughter of Lawrence and Catherine DuBois, Beverly, Mass.
For more information on Bates women's basketball, visit our home page at http://www.bates.edu/sports/whoops.html.
# # #
---