Oct. 18, 2000

Contact: Adam Levin
Phone: (207) 786-6411
FOR IMMEDIATE RELEASE
ANTHONY NAMED ALL-OPEN NEW ENGLAND; WINS MAINE STATE CHAMPIONSHIP
LEWISTON, Maine - Bates College sophomore Abigail Anthony of Jamestown, R.I., has earned All-Open New England honors for her 10th-place finish in that race on Oct. 13. Anthony earned the honor on the heels of winning the State of Maine championship on Oct. 7.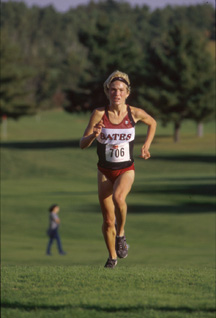 Anthony's finish at the Franklin Park course in Boston was the best ever for a Bobcat at the Open New England championships. She completed the 5K race in 18:05. Anthony's performance was an improvement over her State of Maine championship time. Anthony completed the Colby course in 18:34, seven seconds in front of the second-place finisher. Her performance in that race led the team to a 3rd-place finish overall. Anthony joined Adelia Myrick (class of 1999) as the only Bates women to ever win the state of Maine individual title.
The Open New England Meet features cross country teams from NCAA Divisions I, II, and III. Anthony was the second Division III runner to finish. The other runners who bested her time were all Division I scholarship athletes.
The Bobcats next compete on Saturday, Oct. 28, in the New England Small College Athletic Conference (NESCAC) championships at Amherst College in Amherst, Mass. Last season, the Bobcats finished ninth at the NESCAC championships, while Anthony finished 21st overall.
"Abby is having a phenomenal season," said head coach Carolyn Court. "She will only continue to get better as we move deeper into the championship season."
Anthony is a 1999 graduate of St. George's School. She is the daughter of G. Quentin and Emily Anthony of Newport, R.I.
For more information on Bates women's cross country, please visit our web site at http://www.bates.edu/sports/wxc.html
# # #
---