Feb. 28, 2000

Contact: Adam Levin
Phone: (207) 786-6411
FOR IMMEDIATE RELEASE
WILSON NAMED THIRD-TEAM ALL-NESCAC HOOPS
LEWISTON, Maine Ð Bates College sophomore forward Alex Wilson of Duxbury, Mass., has been named a third-team All-Conference selection by the basketball coaches of the New England Small College Athletic Conference (NESCAC).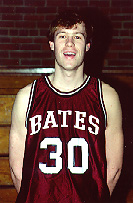 Wilson is Bates' co-captain this season with classmate Ed Walker of Roxbury, Mass. They are believed to be the first-ever sophomore captains at Bates. Wilson was the Bobcats' leading scorer this season, averaging 18.0 points per game, third best in the conference. His 448 points were the highest single-season total by a Bobcat since the 1996-97 season. Wilson led the team in scoring 15 times, including a stretch of seven straight games between Jan. 8 and Jan 28. He twice scored 25 points in a game, the team's best performances this season, Jan. 18 against Bowdoin College and Jan. 27 against Trinity College in the Bobcats' first win over a ranked opponent since 1997.
Wilson was also Bates' second-leading rebounder (ninth in the conference), collecting seven boards per game. He led the Bobcats in rebounding on four occasions and recorded a pair of double-doubles, Dec. 12 against Gordon College and Jan. 8 against Salve Regina. An 87 percent free throw shooter (74-85), Wilson connected on his last 22 foul shots in a row and was second in the league in free-throw percentage. Wilson earned All Tournament honors at the Anna Maria Invitational Dec. 5-6, averaging 14.5 points and 6.5 rebounds in two games.
"Alex had an outstanding season," said Bates head coach Joe Reilly. "He was always working to make himself and his team better. Alex's leadership was an integral part of our success. He definitely deserves this honor."
Wilson is a 1998 graduate of Duxbury High School. He is the son of Mike and Cynthia Wilson, Duxbury.
The Full 2000 NESCAC Men's Basketball All-Star Teams
For more information on Bates men's basketball, please visit our website at http://www.bates.edu/sports/mhoops.html.
# # #
---