Feb. 28, 2000

Contact: Adam Levin
Phone: (207) 786-6411
FOR IMMEDIATE RELEASE
BATES WOMEN'S BASKETBALL HONORED BY NESCAC
King Named Player of the Year, Murphy Top Coach
LEWISTON, Maine Ð Four individuals affiliated with the NCAA tournament-bound Bates College women's basketball team were honored by the New England Small College Athletic Conference (NESCAC) today, led by conference Player of the Year Emily King of Lebanon, N.H., and Coach of the Year Jim Murphy '69. Joining King as a first-team All-NESCAC selection was junior forward Kate McLaughlin, of Laconia, N.H., while senior Jolene Thurston of Post Mills, Vt., was named to the NESCAC All-Defensive team.
"I am honored to be recognized by the other NESCAC coaches," said Murphy. "But the credit really belongs to the players. They have worked extremely hard this season and they are the ones who really deserve the honors."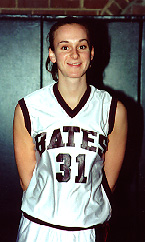 King, a forward and a co-captain, earned her third consecutive berth on the All-NESCAC first team, the first time a Bates women's basketball player has been so honored three straight years. She is the second woman in school history to earn Player of the Year honors, joining Sarah Bonkovsky '97. King has passed her former teammate on Bates' all-time scoring list with 1,463 points. With 804 career rebounds, King needs just 11 more to become the school's all-time leading rebounder. King ended the regular season seventh in the NESCAC in scoring (14.0 points per game) and rebounding (8.0 rpg), third in the league in steals (2.9 spg) and fifth in shooting percentage (44.3 percent, 141-318).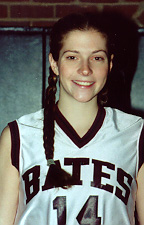 McLaughlin is Bates' second leading scorer (13.6 ppg) and rebounder (5.1 rpg) behind King. McLaughlin is also Bates' leading scorer in NESCAC contests, averaging 15.2 points per game in conference games. She has been the Bobcats' leading scorer since fellow frontcourt player Katy Dutille of Lebanon, N.H., was lost for the season with an injury. McLaughlin averaged 15.7 points per game in those 11 contests. She has led the Bobcats in scoring 10 times this season, more than any other player. McLaughlin secured her only double-double of the season Feb. 26 against Colby when she had 26 points and 13 rebounds.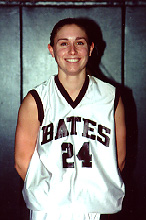 Named to the NESCAC All-Defensive team was senior co-captain Jolene Thurston of Post Mills, Vt. Thurston was second on the team with 57 steals and 70 assists. Routinely asked to cover the opponent's top backcourt scoring threats, Thurston was a prime reason the Bobcats led the NESCAC in scoring defense, allowing opponents just 55.8 points per game. Bates allowed fewer than 60 points in a game 15 times in 24 contests. Thurston, along with King, shares the school record with 100 games played and started. In four years, the senior duo have compiled an 83-17 record with four NCAA Tournament berths.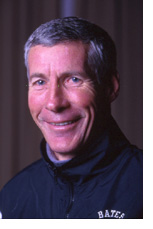 For Murphy, this marks the fourth Coach of the Year honor he has garnered in six years at the helm of the Bobcats. He was named Maine Coach of the Year in 1996 and both Maine and New England Women's Basketball Association (NEWBA) Coach of the Year in 1998. He earns the honor in 2000 as the Bobcats recorded their fourth straight 20-win season, finishing the regular season 21 3. Bates has made the NCAA Division III Women's Basketball Tournament for the fourth time. The Bobcats will play host to a second round contest March 4 against the winner of the first-round contest between Clark University (19-8) and Norwich University (18-9).

The Full 2000 NESCAC All-Star Teams
For more information on Bates women's basketball, please visit our website at http://www.bates.edu/sports/whoops.html.
# # #
---