Nov. 18, 1999

Release No. 243
Contact: Adam Levin
Phone: (207) 786-6411
FOR IMMEDIATE RELEASE
COLBY, HAGSTROM NAMED FIRST TEAM ALL-NEW ENGLAND
LEWISTON, Maine -- For the second year in a row, Bates College senior middle hitter Amanda Colby of Willimantic, Conn., and junior setter Kate Hagstrom of Portola, Calif., have been named first-team All-New England by the American Volleyball Coaches Association.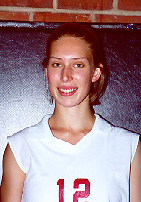 Colby, who was previously named Maine Player of the Year and first-team All-New England by the New England Volleyball Coaches Association (NEWVA), led the New England Small College Athletic Conference (NESCAC) with 4.45 kills per game. She was ninth in NCAA Division III play with a .413 hitting percentage (574 kills, 119 errors in 1,103 chances). Colby, who was tied for the team lead with 129 games played, led the Bobcats with 103 blocks (21 solo, 82 assists) and was fourth on the team with 287 digs. In nine tournaments this season, Colby was named to the All-Tournament team six times.
In her career, Colby played in 480 games over 137 matches. She is Bates' all-time leader in kills (1,805), kills-per-game average (3.76), attacks (3,582), attacks-per-game average (7.46) and hitting percentage (0.368). She also ranks among the top 10 among NCAA Division III players in career kills, kills-per-game average and hitting percentage.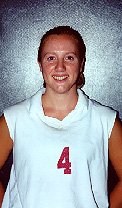 Hagstrom has already been named NESCAC Player of the Year and first- team All-New England by NEWVA. She was named to All-Tournament teams in all nine tournaments Bates played in this season, including earning most valuable player honors three times. Most recently, she was named MVP of the Eastern College Athletic Conference (ECAC) championships, in which the Bobcats were the top seed and tournament hosts. Hagstrom finished the season ninth in Division III with 130 service aces in 129 games played. She now owns the top three service ace seasons in school history and is third all-time among Division III players with 365 career aces. She needs 41 aces next year to become the all-time Division III leader.
Under first-year head coach Tim Byram, the Bobcats posted a 33-6 record, ranking them among the top 20 in Division III in winning percentage. The Bobcats won four tournaments this season and finished second in four others. Among their tournament victories, the Bobcats won the state of Maine championships and the ECAC Division III North titles for the second year in a row. They finished the season ranked among the top 20 in the nation in five of the seven categories kept by the NCAA. Four of six starters will return for the 2000 campaign.
# # #
---