Feb. 9, 2000

Contact: Adam Levin
Phone: (207) 786-6411
FOR IMMEDIATE RELEASE
MAINE COACHES HONOR McLAUGHLIN, GOLOBSKI
LEWISTON, Maine -- Kate McLaughlin of Laconia, N.H., and Lisa Golobski of Methuen, Mass., earned recognition from the Maine Women's Basketball Coaches Association for the week ending Feb. 6.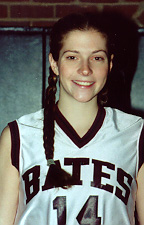 McLaughlin, a junior forward, was named Co-Player of the Week for her role in an 85-58 Bates victory over Hamilton College on Feb 4th. She had 25 points, five rebounds, three steals, and two blocks in just 23 minutes of play. McLaughlin shot 9-19 from the floor, including 4-7 on three-point attempts.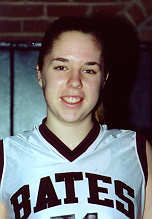 Golobski, a first-year center who has taken over the starting role for injured junior Katie Dutille of Lebanon, N.H., had her strongest performance of the season against the Continentals. She notched a career-high 16 points on 7-13 shooting and added a game-high nine rebounds, including six offensive boards. Golobski was named Maine Rookie of the Week for her performance.

Bates' victory over Hamilton marked the 100th career win for head coach Jim Murphy `69. Murphy joins George Wigton, men's basketball coach from 1966-1986, as the only Bates hoops coach to reach the century mark. Murphy accomplished the feat in just his sixth year, six years sooner than Wigton.
The Bobcats improved their record to 14-3 this season with their win over Hamilton. Bates was ranked third in the most recent New England Women's Basketball Association Poll. The Bobcats travel to the University of Maine-Farmington for a non-league contest on Feb. 7th, and then travel to Connecticut for a two-game swing against New England Small College Athletic Conference (NESCAC) foes Wesleyan University and Connecticut College over the weekend. Bates will then round out their season at home in Alumni Gymnasium, taking on conference opponents Middlebury, Williams, Tufts, and Colby. The Bobcats are attempting to earn a fourth-straight appearance in the NCAA Division III Championship Tournament.
For more information on Bates women's basketball, visit their Web pages at http://www.bates.edu/sports/whoops.html
# # #
---