Jan. 10, 2000

Contact: Adam Levin
Phone: (207) 786-6411
FOR IMMEDIATE RELEASE
KING, LaPOINTE EARN HOOPS HONORS, BATES ATHLETES OF THE WEEK
LEWISTON, Maine - Bates College senior forward Emily King of Lebanon, N.H., has been named women's basketball Player of the Week by the New England Small College Athletic Conference (NESCAC), while first-year point guard Matt LaPointe of Beverly, Mass., has been named Men's Rookie of the Week by the Maine College Basketball Coaches and Writers Association (MCBCWA).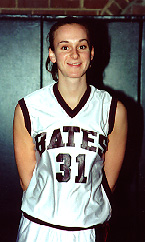 King was named Most Valuable Player last week at the Unum/Provident Invitational hosted by Worcester Polytechnic Institute Jan. 8-9. She led the Bobcats to a successful defense of their tournament title with wins over MIT, 83-36, and Clarkson University, 79-52. King averaged 17.5 points, eight rebounds, 5.5 steals and 2.0 assists per game in the two contests, while shooting 61.5 percent from the floor (16 of 36). She was the game-high scorer against MIT with 18 points in just 20 minutes of action, while also recording five steals. King recorded her second double-double of the season with 17 points and 10 rebounds against Clarkson in the title game.
With 35 points in the tournament, King moved into second place on Bates' all-time scoring list with 1,237 points. The first woman at Bates ever to reach the 1,000-point mark in her junior season, King is well within striking distance of all-time leader Sarah Bonkovsky '97, who graduated with 1,407 points. An honorable-mention All-American in 1999, King is among the top 10 in the NESCAC in three statistical categories. She is second in steals per game (3.3), eighth in rebounding (8.2) and ninth in scoring (13.0).
The Bobcats boast a 7-1 record and were ranked second in the most recent New England Women's Basketball Association poll. The lead the NESCAC in field goal percentage (44.1 percent) and scoring offense (78.1 ppg, 17th in NCAA Division III).
"Emily has gotten better every season," said Bates coach Jim Murphy '69. "She is always looking to improve her game."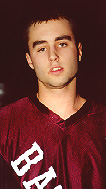 In the Bates men's only action of the week, LaPointe helped the Bobcats defeat Salve Regina University, 97-91, on Jan. 8. LaPointe had a perfect game shooting, hitting both of his shots from the floor, including a 3-point field goal, and eight free throw attempts, all of which came in the final two minutes of the game. In addition to his season-high 13 points, LaPointe also pulled down five rebounds and dished 11 assists, marking the third time this season he has recorded a double-double with points and assists. The 11 assists in a game, which matches his season-high set Nov. 20 in the Bobcats' season opener, are the most at Bates since the 1996-97 season.
LaPointe is second in the MCBCWA and fifth in the NCAA Division III statistical rankings this season with 8.1 assists per game. He has started all nine games for the 4-5 Bobcats this season and is averaging 8.9 points per game. He leads Bates and is fourth in the MCBCWA in free throw percentage, hitting 82.2 percent from the line (37 of 45).
"Matt is the first true point guard at Bates in four years," said third year Bates head coach Joe Reilly. "With Matt on the floor, the rest of the team can play their natural positions, and we are a much better team because of it."
King is a 1996 graduate of Lebanon High School. She is the daughter of John and Jody King, Lebanon, N.H.
LaPointe is a 1999 graduate of Cushing Academy. He is the son of Gary and Denise LaPointe, Beverly, Mass.
# # #
---