March 16, 2000

Contact: Adam Levin
Phone: (207) 786-6411
FOR IMMEDIATE RELEASE
KING NAMED NCAA DIVISION III ALL-AMERICAN
LEWISTON, Maine Ð Bates College senior forward Emily King of Lebanon, N.H., has become the first woman in school history named to the NCAA Division III Kodak All-America women's basketball team.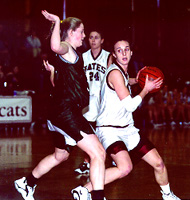 King, a co-captain, earned Honorable Mention All-America status in 1999. This season, she became Bates' all-time leader with 1,478 points and 816 career rebounds. She also topped Bates' career lists in field goals made (586) and attempted (1,307) and free throws attempted (521).
"Emily has been such a strong leader this season and throughout her career, both on and off the court," said Bates head coach Jim Murphy. "Her combination of toughness and athleticism are unmatched. She is definitely worthy of this honor."
King is the third Bates woman to appear on the Kodak All America ballot, joining Sarah Bonkovsky '97 and Julie Roche '91, both of whom earned Honorable Mention All-America honors in their senior seasons. King is the first Bates player to be eligible for All-America honors twice in her career.
The New England College Small College Athletic Conference (NESCAC) Player of the Year, King ended the 2000 season eighth in the NESCAC in scoring (14.1 points per game), seventh in rebounding (8.2 rpg), second in steals (2.8 spg) and sixth in shooting percentage (44.3 percent, 148-334). She was a first-team All-Conference selection for three consecutive years, also earning All-New England honors from the New England Women's Basketball Association (NEWBA) for the third time.
King ended her career with a four-year record of 83-18, playing and starting in all 101 games. In 2000, Bates was the NESCAC regular-season champion with a 21-3 record overall (8-1 in the conference) earning an automatic bid to the NCAA tournament. The Bobcats were upset in the second round of the tournament at home against Clark University, 63-59.
NCAA Division III Kodak All-America Team
ATLANTA, Ga. (March 16, 2000) - The top 10 women's basketball players from the NCAA Division III were named to the 2000 NCAA Division III Kodak All-America Women's Basketball Team today. This prestigious 10-member squad, highlighted by three-time winners Alia Fischer of Washington University (St. Louis, Mo.) and Ronda Jo Miller of Gallaudet University (Washington, D.C.), was selected by the Women's Basketball Coaches Association (WBCA).
This Kodak team marks the 18th season that Kodak and the WBCA have selected an honor roll for the NCAA Division III classification. The members of the 2000 NCAA Division III Kodak All-America Women's Basketball Team are:

PLAYER		YR	HT	POSITION	SCHOOL
Jayme Anderson 	Jr. 	5'10" 	Forward		Univ. of Wisconsin-Eau Claire
Liz Brown 	Sr. 	5'6" 	Guard 		William Smith College (NY)
Alia Fischer 	Sr. 	6'2" 	Center 		Washington University (MO)
Kelly Halpin 	Sr. 	5'8" 	Guard 		University of Scranton (PA)
Molly Hayden 	Sr. 	6'0" 	Forward 	University of St. Thomas (MN) 
Emily King 	Sr. 	5'9" 	Forward 	Bates College (ME)
Kendra Meyer 	Jr. 	6'1" 	Forward 	Capital University (OH)
Ronda Jo Miller Sr. 	6'2" 	Center 		Gallaudet University (DC)
Joanne Polakoski Sr. 	5'11" 	Forward 	King's College (PA)
Tasha Rodgers 	Jr. 	5'10" 	Forward 	Washington University (MO)

# # #
---