March 21, 1999

Contact: Adam Levin
Phone: (207) 786-6411
FOR IMMEDIATE RELEASE
HASTINGS NAMED ALL-AMERICAN IN ONE- and THREE-METER DIVING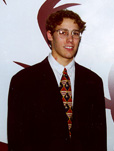 ST. PAUL, Minn. - Bates College first-year diver Andrew Hastings of Weston, Mass., placed fourth in the nation in the one-meter event and seventh in the three-meter event at the NCAA Division III Swimming and Diving Championships held on the campus of the University of Minnesota, becoming the fourth athlete in Bates swimming and diving history to earn multiple All-America honors at the same championhips.
Hastings, who won the three-meter diving and placed third in the one-meter at the New England championships two weeks ago, was the top first-year diver at the championships, as well as the top New England diver in the one-meter event, which was contested on March 18. He was in fifth place in the one-meter after the preliminaries with an 11-dive score of 420.10, and after the semifinals, when he posted a six-dive score of 178.90. Hastings improved one spot to fourth place with a score of 423.10. The fourth-place finish is the best-ever by a Bates diver.
In the three-meter event, contested on March 19 and 20, Hastings qualified for the finals by just over six points with an 11-dive score of 417.65. He improved to sixth place after the semifinals with a six-dive score of 177.60, and finished the final round with a score of 440.65, earning his second All-America honor of the meet. In all, Hastings scored 27 points for the Bobcats, good for 28th place among the 50 teams which scored at the championships, fourth among teams from New England. Kenyon College won the meet going away for their 20th consecutive title, the longest such streak in NCAA history.
Hastings is the fourth Bobcat this winter to earn All-America honors, joining first-year alpine skier Kyle Hildebrand of Waitsfield, Vt. and junior track and field athletes Lucas Adams of Nottingham, N.H. and Mike Danahy of So. Windsor, Conn..


1999 NCAA DIVISION III                             
MEN'S SWIMMING AND DIVING CHAMPIONSHIPS                    
HOSTED BY MACALESTER COLLEGE AT THE UNIV. OF MINNESOTA AQUATICS CENTER    
                             MARCH  18, 1999

EVENT:   5    MEN's     1  METER   SPRINGBOARD DIVING      

MEET RECORD          540.30   JEFF GORTON       KALAMAZOO         3/19/98 

                                                         SEMI
RANK         NAME        YEAR      TEAM         PRELIM  FINALS  FINALS

   1  GORTON, JEFF        JR  KALAMAZOO         496.30  207.60  524.50
   2  KARPE, JOHN         SR  WISC-EAU CLAIRE   466.80  215.95  522.00
   3  MORRIS, JON         SR  SEWANEE           423.30  177.75  474.15
  4  HASTINGS, ANDREW  FR  BATES          420.10  178.90  423.10
   5  LILLY, KEVIN        SO  WISC-LA CROSSE    471.70  202.25  410.10
   6  SMITH, BRANDON          MOUNT UNION       414.95  169.10  402.00
   7  CHICARILLI, DEREK   FR  MIDDLEBURY        415.90  162.75  400.70
   8  WALKER, MATT        SR  ST. OLAF          415.40  149.50  390.40

   9  KLUGHERZ, STEPHEN   SO  UNIV. ST. THOMAS  395.05  
  10  KORTEUM, GABE       SO  ST. OLAF          387.10  
  11  RUDSER, KYLE        FR  ST. OLAF          385.80  
  12  WENDELL, CHRISTOPHERJR  WILLIAMS          381.35  
  13  MACDONALD, MATT     JR  UC SAN DIEGO      359.70  
  14  HERTENSTEIN, TOBY   SR  OHIO NORTHERN     357.55  
  15  SPRING, STEPHEN     SO  DENISON           352.10  
  16  GOLDFARB, MICHAEL   SR  BRANDEIS          343.90  
  17  CARLETON, SCOTT     SO  HAMILTON          342.85  
  18  ENGHOLDT, KEVIN     FR  WISC-STEVENS PT.  341.65  
  19  MAY, BRANDON        FR  CARNEGIE MELLON   335.15  
  20  SMART, MATTHEW      JR  POMONA PITZER     334.30  
  21  KLIGER, MICHAEL     JR  NYU               332.80  
  22  WHISLER, MATT       SR  DENISON           297.95  

EVENT:  19    MEN's     3  METER   SPRINGBOARD DIVING      

MEET RECORD          575.00   THOMAS EGAN       DARTMOUTH         1992    

                                                         SEMI
RANK         NAME        YEAR      TEAM         PRELIM  FINALS  FINALS

   1  KARPE, JOHN         SR  WISC-EAU CLAIRE   489.80  204.40  559.00
   2  MORRIS, JON         SR  SEWANEE           486.85  196.20  517.45
   3  LILLY, KEVIN        SO  WISC-LA CROSSE    422.05  201.25  513.95
   4  GORTON, JEFF        JR  KALAMAZOO         465.40  194.85  505.05
   5  WENDELL, CHRISTOPHERJR  WILLIAMS          443.45  176.85  483.80
   6  MACDONALD, MATT     JR  UC SAN DIEGO      457.90  183.45  464.90
  7  HASTINGS, ANDREW  FR  BATES          417.65  177.60  440.05
   8  GOLDFARB, MICHAEL   SR  BRANDEIS          428.40  157.40  417.90

   9  ENGHOLDT, KEVIN     FR  WISC-STEVENS PT.  411.35  
  10  CHICARILLI, DEREK   FR  MIDDLEBURY        407.50  
  11  SPRING, STEPHEN     SO  DENISON           403.65  
  12  WALKER, MATT        SR  ST. OLAF          402.40  
  13  SMITH, BRANDON          MOUNT UNION       399.20  
  14  KLIGER, MICHAEL     JR  NYU               389.95  
  15  SMART, MATTHEW      JR  POMONA PITZER     384.50  
  16  KORTEUM, GABE       SO  ST. OLAF          383.90
  
  17  KLUGHERZ, STEPHEN   SO  UNIV. ST. THOMAS  374.40  
  18  HERTENSTEIN, TOBY   SR  OHIO NORTHERN     370.85  
  19  RUDSER, KYLE        FR  ST. OLAF          353.45  
  20  WHISLER, MATT       SR  DENISON           351.01  
  21  CARLETON, SCOTT     SO  HAMILTON          340.30  
  22  MAY, BRANDON        FR  CARNEGIE MELLON   327.70  


SCORING     FINAL SCORE                             

    1)   KENYON             670.0            27)   WISC-LA CROSSE  30.0
    2)   DENISON            382.5           28)   BATES        27.0
    3)   UC SAN DIEGO       289.0            29)   MISERICORDIA    21.0
    4)   WISC-STEVENS PT.   262.0            30)   ALFRED          20.5
    5)   MIDDLEBURY         190.0            31)   TRINITY (TX)    18.0
    6)   EMORY              186.0            32)   WISC-WHITEWATER 17.0
    7)   C-M-S              181.0            32)   MOUNT UNION     17.0
    7)   WISC-EAU CLAIRE    181.0            34)   SPRINGFIELD     16.0
    9)   HOPE               117.0            34)   GUSTAVUS        16.0
   10)   KALAMAZOO          104.0            34)   OBERLIN         16.0
   11)   ROWAN              101.0            37)   WHEATON (IL)    15.0
   12)   WILLIAMS            98.0            38)   SUNY GENESEO    12.0
   13)   HAMILTON            96.0            38)   BRANDEIS        12.0
   14)   WHITWORTH           90.0            40)   HARTWICK        11.0
   15)   COLL OF WOOSTER     75.0            41)   UC SANTA CRUZ    9.0
   16)   AMHERST             65.0            41)   UNIV. ST. THOMAS 9.0
   17)   COLL NEW JERSEY     62.0            43)   FRANKLIN & MARSH 8.0
   18)   WITTENBERG          61.0            43)   PACIFIC LUTHERAN 8.0
   19)   ST. JOHN'S          53.0            45)   DEPAUW           6.0
   19)   WABASH              53.0            45)   MILLIKIN         6.0
   21)   UNION               44.0            47)   NYU              5.0
   21)   JOHNS HOPKINS       44.0            48)   ALLEGHENY        4.0
   23)   CASE WESTERN        38.0            49)   OHIO NORTHERN    3.0
   24)   SEWANEE             35.0            50)   POMONA PITZER    2.0
   25)   ST. OLAF            34.0            
   26)   ROSE-HULMAN         31.0

---