Jan. 19, 2000

Contact: Adam Levin
Phone: (207) 786-6411
FOR IMMEDIATE RELEASE
GROSSMAN NAMED MAINE ROOKIE OF THE WEEK
LEWISTON, Maine - Bates College first-year guard Marcy Grossman of Eastsound, Wash., has been named Rookie of the Week by the Maine Women Basketball Coaches Association (MWBCA) for the week ending Jan. 16.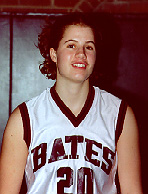 Grossmanhelped lead the Bobcats to a 3-0 week by averaging 12.3 points, 3.3 rebounds and three assists per game in just over 20 minutes per game. She scored nine points and had a career-high seven assists in her third career start against Thomas College, a 75-36 Bates victory on Jan. 11. In a Jan. 13 overtime win over in-state rival Colby College, 73-71, Grossman was second on the team in scoring with 15 points, including 13 after halftime. She scored the Bobcats' last four points in regulation and their first basket in overtime as the Bobcats rallied from a five-point deficit in the extra period to post the win. Grossman ended her week Jan. 15 against Babson College, coming off the bench to hit six-of-11 shots from the field to lead the team in scoring for the first time this season with 13 points.
Grossman is one of four Bobcats averaging in double figures this season, scoring 10.5 points per game. She has helped Bates to an 11-1 record and the No. 1 spot in the New England Women's Basketball Association (NEWBA) Division III poll. The Bobcats, who have won their last seven contests in a row, were ranked 11th in the nation in the most recent NCAA Division III in scoring offense (78.1 points per game) and eighth in scoring margin (24.3 ppg). Bates will be looking for its fourth-straight berth in the NCAA tournament this March.
"Marcy has been a terrific addition to this team," said Bates head coach Jim Murphy '69. "The added depth she gives our bench has been very important, and she played extremely well filling in as a starter."
Grossman is a 1999 graduate of Orcas Island High School. She is the daughter of Theodore and Anna Grossman, Eastsound, Wash.
# # #
---