Sept. 6, 2000

Contact: Adam Levin
Phone: (207) 786-6411
FOR IMMEDIATE RELEASE
AMANDA COLBY NAMED FINALIST FOR NCAA WOMAN OF THE YEAR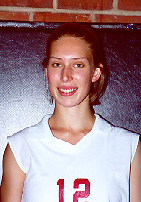 LEWISTON, Maine -- Recent Bates College graduate Amanda Colby of Willimantic, Conn., has been selected by the NCAA as a finalist for the 2000 NCAA Woman of the Year.
The NCAA Woman of the Year Award honors senior student-athletes who have distinguished themselves throughout their collegiate careers in the areas of academic achievement, athletics excellence, service and leadership. The fifty-one state winners and 10 finalists will be recognized at the 2000 NCAA Woman of the Year awards dinner in Indianapolis in October.
Colby, a second-team All-American for the Bobcat volleyball team, was named Maine Player of the Year and first-team All-New England by two organizations. She led the New England Small College Athletic Conference (NESCAC) with 4.45 kills per game and was ninth in NCAA Division III play with a .413 hitting percentage (574 kills, 119 errors in 1,103 chances). Colby is Bates' all-time leader in kills (1,805), kills-per-game average (3.76), attacks (3,582), attacks-per-game average (7.46) and hitting percentage (0.368). She also ranks among the top 20 among NCAA Division III players in career kills, kills-per-game average and hitting percentage.
Colby is the first Bates woman named NCAA Woman of the Year from Maine. In addition to her success on the court, Colby was named a GTE/CoSIDA second team Academic All-American, making her one of two Bates athletes to earn athletic and academic All-America recognition in the same year. A biochemistry major, Colby presented her research at the 11th International Symposium on Chrial Discrimination in Chicago last winter and has been published in the journal Chirality.
The Bobcats posted a 33-6 record in 1999, ranking them among the top 20 in Division III in winning percentage. The Bobcats won four tournaments and finished second in four others last year. Among their tournament victories, the Bobcats won the state of Maine championships and the ECAC Division III North titles for the second year in a row.
Read the NCAA's press release and the full list of 2000 NCAA Woman of the Year finalists at www.ncaa.org.
# # #
---