Dec. 14, 1999

Contact: Adam Levin
Phone: (207) 786-6411
FOR IMMEDIATE RELEASE
COLBY NAMED GTE/CoSIDA ACADEMIC ALL-AMERICAN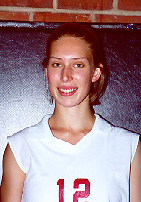 LEWISTON, Maine -- Bates College senior middle hitter Amanda Colby of Willimantic, Conn., has been named to the GTE/CoSIDA Academic All-America® second team, college division.
Colby, who was named to the Academic All-District I first-team along with teammate Kate Hagstrom of Portola, Calif., in November, is the third woman in Bates history to earn GTE/CoSIDA Academic All-America® honors, joining Nancy Bell (Class of 1984, cross country) and Sydnee Brown (Class of 1985, field hockey). Colby is a biochemistry major who boasts a 3.67 grade point average. She is a five-time dean's list student and was named to the Academic All-New England Small College Athletic Conference (NESCAC) team in 1998. This summer, she presented her biochemistry research at the 11th International Symposium on Chiral Discrimination in Chicago.
This is the second All-America award of 1999 for Colby, who was named to the American Volleyball Coaches Association (AVCA) All-America team Nov. 28. She has also been named Maine Player of the Year and first-team All-New England by the AVCA and the New England Volleyball Coaches Association (NEWVA). Colby led the NESCAC with 4.45 kills per game. She was ninth in NCAA Division III play with a .413 hitting percentage (574 kills, 119 errors in 1,103 chances). In her career, Colby played in 480 games over 137 matches. She is Bates' all-time leader in kills (1,805), kills-per-game average (3.76), attacks (3,582), attacks-per-game average (7.46) and hitting percentage (0.368). She also ranks among the top 10 among NCAA Division III players in career kills, kills-per-game average and hitting percentage.
Colby is just the second Bobcat athlete to be named an academic All American and an athletic All-American in the same year, joining Jamie Goodberlet (Class of 1985, track and field).
Colby is a 1996 graduate of Windham High School. She is the daughter of Gilbert and Sonia Colby, 74 Pigeon Rd., Willimantic, Conn.

1999 GTE/College Sports Information Directors Association (CoSIDA) 
Academic All-America® Volleyball Team (College Division)

First Team
Pos. Name (College)		     Yr.     Hometown		GPA	Major
S   Kim Arndt (Wis.-Eau Claire)	     Sr.     Kennan, Wis.	4.00	Biology Education
MB  Joyce Jordahl (Northern Colo.)   Sr.     Alden, Iowa	4.00	Chemistry
MH  Lynn Olsen (Wis.-Whitewater)     Sr.     Merill, Wis.	3.93	Accounting
*S  Ushi Patel (RIT)		     Sr.     San Jose, Cal.	3.81	Printing Management
OH  Rachel Price (North Alabama)     Sr.     Merrillville, Ind.	3.99	Chemistry
OH  Kari Wanat (Florida Tech)	     Sr.     Wauwatosa, Wis.	4.00	Molecular Biology

Second Team
Pos. Name (College)		     Yr.     Hometown		GPA	Major
S    Amber Brennman (Findlay)	     Sr.     Fremont, Ohio	4.00	Secondary Education
MB   Sarah Butler (West Texas A&M)   Sr.     Amarillo, Texas	3.48	Sports & Exercise Sci
MH   Amanda Colby (Bates)     Sr.     Willimantic,Conn.	3.67	Biochemistry
OH   Nancy Reinhart (Washington & Lee) Sr.   Louiville, Ky.	3.62	Poli. Sci/Journalism
MH   Maggie Rippey (Elmhurst)	     Sr.     Bloomington, Ill. 	4.00	Biology/Chemistry
OH   Erin Wimmers (Kenyon)	     Sr.     Springboro, Ohio  	4.00	Chemistry

Third Team
Pos. Name (College)		     Yr.     Hometown		GPA	Major
MB   Kelli Brummer (Neb.-Kearney)    So.     Blair, Neb.	3.95	Biology
S    Alarice Huang (MIT)	     Sr.     Los Angeles, Cal. 	4.8/5.0	Biology
OH   Ronda Price (North Alabama)     Sr.     Merrillville, Ind.	3.76	Gen. Chemistry
S    Janna Ruebke (N. Dak. State)    Sr.     Ada, Minn.		3.82	Pharmacy
OH   Nicole Speight (Miss. U. For Women) Jr. Portland, Ore.	4.00	Microbiology/Pre-Vet
MH   Stephanie Szobota (Carnegie Mellon) Sr. McDonald, Pa.	3.92	Mechanical Eng.

* Academic All-American® of the Year

# # #
---