February 22-23, 2002

Contact: Adam Levin
Phone: (207) 786-6411
Open New England Track Championships
at B.U. Armory
Boston, Mass.
SAWLER, DMR EARN ALL-OPEN NEW ENGLAND HONORS
Bobcats tie for 13th
BOSTON, Mass. — Five Bates College track members earned All-Open New England honors this weekend as senior Jaime Sawler (Stratham, N.H.) and the Bobcat distance medley relay team each scored, leading Bates to a 13th-place tie at the Open New England championships at Boston University this weekend.
Sawler, who remains undefeated against Division III competition this season, finished third with a throw of 60 feet, two inches. This marks the second time this season Sawler has throw over 60 feet in competition. He is currently ranked second in Division III in the weight.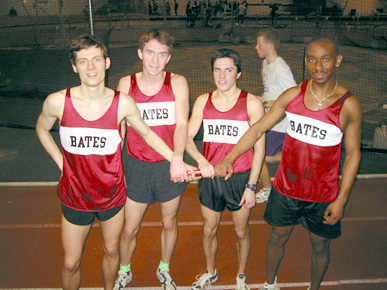 left to right: Andrius Staisiunas, Robert Downing,
Malcolm Gray and Stephen Gresham
The four runners in the Bobcats' fourth-place distance medley relay team were junior Malcolm Gray (Bronxville, N.Y.), junior Stephen Gresham (Milton, Mass.), first-year Andrius Staisiunas (Panevezys, Lithuania), and rookie Michael Downing (Gorham, Maine). Bates' fourth-place time of 10:13.69 was good for an NCAA Division III championship provisional qualifying time. The Bobcats are among the top 20 in the nation and will have one more opportunity to improve their standings and reach the nationals at next week's ECAC championships.
FULL RESULTS

# # #
---