March 8, 2002

Contact: Adam Levin
Phone: (207) 786-6411
NCAA Division III Track and Field Championships
at Ohio Northern University
Ada, Ohio
SAWLER WINS NATIONAL CHAMPIONSHIP
IN 35-POUND WEIGHT THROW
ADA, Ohio —Bates College senior captain Jaime Sawler of Stratham, N.H., capped off the final indoor meet of his career today by winning 35-pound weight throw at the NCAA Division III Indoor Track and Field championships at Ohio Northern University in Ada, Ohio.
Sawler won the meet with a throw of 64 feet, 1.75 inches (19.55 meters). The second seed in the event, he threw 15 inches further than runner-up Noah Eschenbach of the University of Wisconsin-Stevens Point who had a distance of 62-10.5 (19.16 meters). Sawler completed the 2001-02 indoor track and field season undefeated against NCAA Division III competition.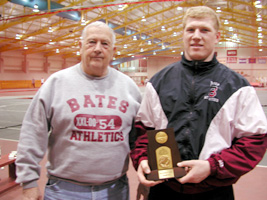 Sawler is the 10th track and field national champion in Bates history and the fourth indoors. He is the first Bates national champ since 1998, when Bill McEvila '99 won the 35-pound weight at Brandeis University. This is the second national champion and 22nd All-America award in 17 years for Bates throwing coach Joe Woodhead.
"This feels great," said Sawler after the event. "Coach Woodhead was a big key to success. He is the best coach in Division III, as far as I am concerned. It feels good to win this for myself and for him too."
The Bobcats finished tied for 18th in the nation at the championships with the 10 points scored by Sawler. They were 4th among New England squads. Wisconsin-Lacrosse won the meet with 54 points, while Wheaton was the top New England team, finishing in fourth place with 27 points. Complete results from the NCAA Division III Track and Field Championships are available via the web courtesy Ohio Northern University at the following URL: http://www.onusports.com/NCAATrack/index.html.
# # #
---