Sept. 26, 1999

Contact: Adam Levin
Phone: (207) 786-6411
Bates 2, Keene State College 0
Leahey Field, Lewiston, Maine

KSC (5-2)	   0   0   0
Bates (2-2)        1   1   2

Scoring: B, 1, 30:24, Johie Farrar (Leslie Moser). B, 2, 29:12, Farrar
(Abby Lenhart).

Goalies: B, Peggy Ficks 70 Min, 10 SV, 0 GA.; KSC, Lindsey Hamilton 70
Min., 2 GA, 3 SV.

BATES PICKS UP SECOND-STRAIGHT SHUTOUT, 2-0, OVER KEENE STATE
LEWISTON, Maine -- First-year forward Johie Farrar (West Paris, Maine) scored twice and junior goalkeeper Peggy Ficks (Washington, Conn.) made 10 saves as the Bates College field hockey team defeated Keene State College, 2-0.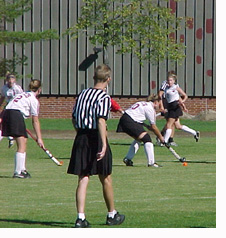 Farrar got the Bobcats on the board early, with her second goal of the season coming less than five minutes into the action, converting a pass from sophomore Leslie Moser (Adamant, Vt.). The Bobcats' second goal came early in the second half, as sophomore Abby Lenhart (Bethesda, Md.) made a nice feed that Farrer slammed home with 29 minutes remaining in the contest.
Ficks was outstanding in goal for the second straight day, making 10 saves, several of which also served to clear the ball from inside the circle. One of her best stops came late in the first half when the Bobcats were down a player because of a yellow card. Ficks' 10th career shutout came against a team in Keene State that had not been shutout in six prior games, including yesterday's 8-0 win over Western New England College. Owls' sophomore Lindsey Hamilton (Brattleboro, Vt.) made 3 saves in the losing effort.
The Bobcats' win was their second straight against a team that appeared in last season's NCAA Division III Tournament. KSC reached the second round last season, while yesterday the Bobcats defeated tournament semifinalist Trinity College, 3-0.
# # #
---