Sharing the College with alumni of all ages put many Reunion-goers in a comparative and reflective frame of mind.
Andrea Buck Bartlett '65 was getting classmates to sign her 1965 Mirror. She was with friends Peggy Grimmeisen Gardiner '65 and her husband, Bill Gardiner '65. The first time around, the glue on all the 1965 yearbooks didn't hold and the binding fell apart; the printer produced new ones, but not in time for seniors to sign each other's.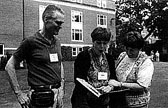 They had attended the panel discussion on the status of women at Bates. Said Peggy: "[College administrators] are questioning the role of women in terms of faculty and being sensitive to the needs of women students."

Added Bill: "They are creating a positive vision. As alumni we are committed to gender equity." The Gardiners reminisced about their days at Bates, in the 1960s, and how there were two different rules for men and women. "Men could run all over," Bill recalls, "but the women had curfews." The College, however, called the shots. "We were in that generation of students who did what they told us to do on campus."

Alice Grant Shepherd '71 of Atkinson, New Hampshire, experience a sea change in the College's attitude toward in loco parentis: "I was a freshman, a girl had to have permission slips to leave campus, there were curfews, the dorms were locked up tight, guys didn't go anywhere but the lounge on the first floor of women's dorms, there were room inspections, and there were no locks on the room doors; by my senior year there were coed dorms."

Louise Butler and Larry Butler '36 of Wenham, Massachusetts, looked around and were "surprised at how well everyone looks. So many people surviving and in such good condition."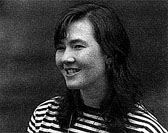 Lara Asmudson '90 of Somerville, Massachusetts, says that as things change, they remain the same: "My friends and I have changed, but we've changed together. As far as coming back to campus, even though they've put up new buildings, there are the familiar places, like the Den, and the mailroom is still there with those little ancient mailboxes that you have to dial in your number. It feels very comfortable."

John Lanza '91 of Los Angeles was noticing a generation gap: "My father is from the Class of 1967 [celebrating a cluster 30th], and they were showing a slide show of all the stuff that was going on in the 1960s. What did we have? We had Paul Newman Day on the same day that the Gulf War started."

Lee Lim '71 of Bethesda, Maryland, tried to show his daughter how tough he and his classmates had it, but to no avail: "We had the Cage. I wanted to show my fourteen-year-old daughter what the Gray Cage looks like. I wanted her to see the dingy dampness and the indoor track. I walk in and it's all concrete and bright lights -- it doesn't even have the same aroma!"

Paul Bertocci '66 of Cambridge, Vermont, a former club hockey player, noticed the new Underhill Arena: "The campus is more beautiful than ever. And the hockey rink is great. I was on the first club team, and I still play two nights a week. We're going to have to come over and skate sometime. The atmosphere is still what it should be: a family atmosphere."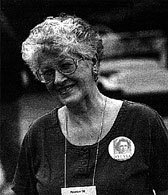 Among classmates of Sylvia Small Spradlin '56 of Scotia, New York, the talk was retirement: "When you come back and you're over fifty-five, there's no apprehension about seeing classmates -- you're just glad to be here. There's a lot of talk this Reunion about whether or not you're retired. You can almost tell from someone's face whether they're retired or working full time. There's a different attitude. Classmates who are still working are in a hurry -- 'Where do we go next?'" As for the Spradlins? "We're fortunate to have been able to retire."

Yasuko "Yako" Izumi Sanborn '71 of Long Island, New York, almost didn't come up for her 25th Reunion, but was talked into it by friends and a former roommate. "Actually , the feeling is pretty much the same, and that surprises me," she said. "It looks and feels like Bates."

Craig Palmer '90 of Hartford, Vermont, was up for Reunion with his spouse, Sam Abel. They were touring campus prior to the Alumni Parade with Tina Brickley '90 of Atlanta. Palmer was back four years ago, while Brickley has returned three times since graduation. Both were pleasantly surprised how things "immediately fall into the same patterns." It shocked them that the Commons and Bookstore staff remembered them. "It's been years," said Palmer. They were staying in the Village for Reunion, which was quite a change from their student housing in Smith North, "where the shower ratio was sixteen to one," recalled Brickley, who described Moody House in the Village as "posh."

Judith Chick Downing '42 and Fred Downing '40 of Hallowell were enjoying a family reunion with daughter Jane Downing '65 and son James Downing '68. Said Judith: "It's amazing what Bates has done, the growth and all the new buildings." Fred, who was from Auburn, lived at home and attended Bates for four years at the total cost of $1,000.